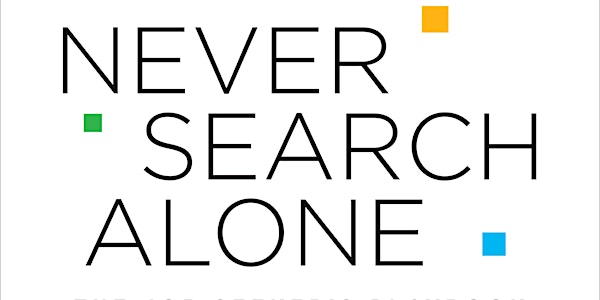 Never Search Alone Party at Farmer's Fridge/Goose Island
Join us for this Chicago-area party celebrating the new book, Never Search Alone, and the global community of executives
Date and time
Sunday, April 23 · 4 - 6pm CDT
Location
2000 W Fulton St 2000 West Fulton Street Chicago, IL 60612
About this event
Join us to celebrate the new book, Never Search Alone, and the global community around it...hosted by the President of the great Chicago-area food startup, Farmer's Fridge – and a wonderful after-party hosted by the President of Goose Island Brewery.
Spouses, friends, colleagues (and kids) are welcome, and we'll have light snacks and beverages.
Schedule
Sun, Apr 23, 2023
4-6pm: Never Search Alone Party at Farmer's Fridge
6:15-8pm: Goose Island After Party
Never Search Alone
Based on 25 years of experience working with thousands of leaders – from early- career product managers to CEOs – Never Search Alone gives readers a time-tested, multi-step process (with exercises, tools, and templates) to find the right job now.
The book has also morphed into a global community of thousands of job seekers and volunteers helping them.
Host
- Mike Brennan, President, Farmer's Fridge
Co-Hosts
- Anne Ashbey, VP of Marketing, Backroads
- Andy Chu, SVP Product & Technology, Providence Digital Innovation Group; former Microsoft executive
- Mark Carpenter, Director, Web Strategy and Operations at American Chemical Society
- Chris Conn, CEO and Co-Founder, MightyNest
- Aaron Cooper, CEO, Homeowner Services Group (Apax Partners Company); former CEO, Groupon
- Tommy Doyle, Managing Director - Americas, Pollinate
- Anne Kao, Senior Director, Visa
- Sandra Dainora, Chief Product Officer, Sittercity
- Elvis Dieguez, CEO, symphonie; former Amazon executive
- Antonio García, Chief Innovation & Strategy Officer, TXI
- Maris Garcia, Head of Human-Centered Design, FOUNT and TI People
- Chris Haas, Head of Partner Engineering, Form Bio; 15+ year Google veteran
- George Hanson, Chief Digital Officer, Panera Bread
- Martin Hardee, Head of Design Frameworks, Wells Fargo
- Tanisa (Williams) Jackson, Head of HR, Americas, The Economist
- Jason Jedlinski, General Manager, The Hill
- Amber Johnson, Senior Culture & Strategy Advisor, Ad Lucem Group
- Anne Kao, Sr. Director, Visa Garage Global Strategy and Operations, Visa
- Sarah Kellogg, CEO, Lactation Network
- Bonnie Lai, General Manager, Lumere
- Joanna Larrimore, VP of Product Management, Entertainment Partners
- Barrie Markowitz, EVP, Insight Partners
- Kimarie Matthews, EVP, Bank of Hawaii
- Greg McGivney, Chief Operatin Officer, Dealer Inspire
- Rob Pettman, EVP, LPL Financial
- Cosmo Rahn, General Manager, SmugMug
- Julie Rinard, Senior Product Leader, Walmart
- Bonnie Sherman, EVP, Marketplace and Agent Engagement, Inside Real Estate
- Lorin Thomas-Tavel, Managing Director, Pearson Virtual Schools
- Emily Teter, Product Manager, CDW (volunteer global coordinator of the Never Search Alone community)
- Ann Yauger, AVP, Product, CarMax