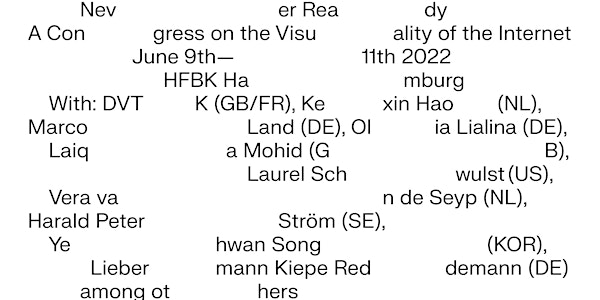 Never Ready — A Congress on the Visuality of the Internet
A Congress on the Visuality of the Internet
When and where
Location
HFBK University of Fine Arts Hamburg Lerchenfeld 2 22081 Hamburg Germany
About this event
🔵 A multitude of spaces in the online world has been largely standardized in recent years. Innovation and finding your own unique solutions have been pushed aside, easing us in lazy comfort. Together with designers, writers and artists from all over the world we want to go off-grid for a breather and get out of our cozy pillows. We want to be nostalgic for a new web that we have yet to conjure and share new possibilities and viewpoints for a happier and more diverse time in front of and behind the screen. We envision a digital detox of the online anecdotes of what the internet should look like and delve deep into new narratives that break with our templated reality. Let us overthrow the golden rules of web design to which we are bound and embrace lost or new ways of how the web works.
🔴 Guests
DVTK (GB/FR), Kexin Hao (NL), Marco Land (DE), Olia Lialina (DE), Laiqa Mohid (GB), Sebastian Schmieg (DE), Laurel Schwulst (US), Vera van de Seyp (NL), Harald Peter Ström (SE), Yehwan Song (KR) and Liebermann Kiepe Reddemann (DE)
📆 Dates and Hours
Day 1: Thursday, June 9th, 2:30pm—8pm
Day 2: Friday, June 10th, 11am—8pm
Day 3: Saturday, June 11th, 11am—2pm
⚡️Important Notes
Since seats and space are limited, please return your ticket if you cannot make it.
There is no need to print your ticket.
The congress will be held in english.
Free Wifi and plug sockets will be available.
More updates will follow within the next weeks on our channels.
❤️ Klasse Digitale Grafik