About this Event
Join The Horse Guru - Michael Gascon of Gascon Horsemanship for his 2020 Never Give Up Tour! The Never Give Up Tour will consist of not only two days full of clinics, education, and demonstrations on all breeds of horses and equine discipline topics, but also non-stop entertainment from equestrians and entertainers from around the country! The event will run daily from 9am-5pm with gates opening at 8am and closing at 6pm for seating, shopping, and visiting with demo horses/entertainers.
The Horse Guru - Michael Gascon is a 5th-generation world-renowned horse trainer who is taking the equine industry by storm! He is the next big thing in the equine industry and he plans to make it to the top and stay there. He's known for training the untrainable, riding the unridable, and doing the impossible with horses all around the world as well as being a Champion Colt Starter. Although Michael has been titled the #1 Gaited Horse Trainer in the World due to his success with the Paso Fino breed (over 50 National Championships), his desire to make a difference in the equine industry and to become the best all-around horse trainer in the world has challenged him to advance his skills and specialties to be applied to any breed. From a pony to a Percheron and anything in between, there's no problem too big or too small, The Horse Guru can handle them all! Not only do his horse clients vary by breed and discipline, but his owner clientele varies by country, riding ability, discipline, and ultimate equine goal for their four-legged partners. He is also an equine viral video sensation and has over 300 MILLION views on his social media videos!!!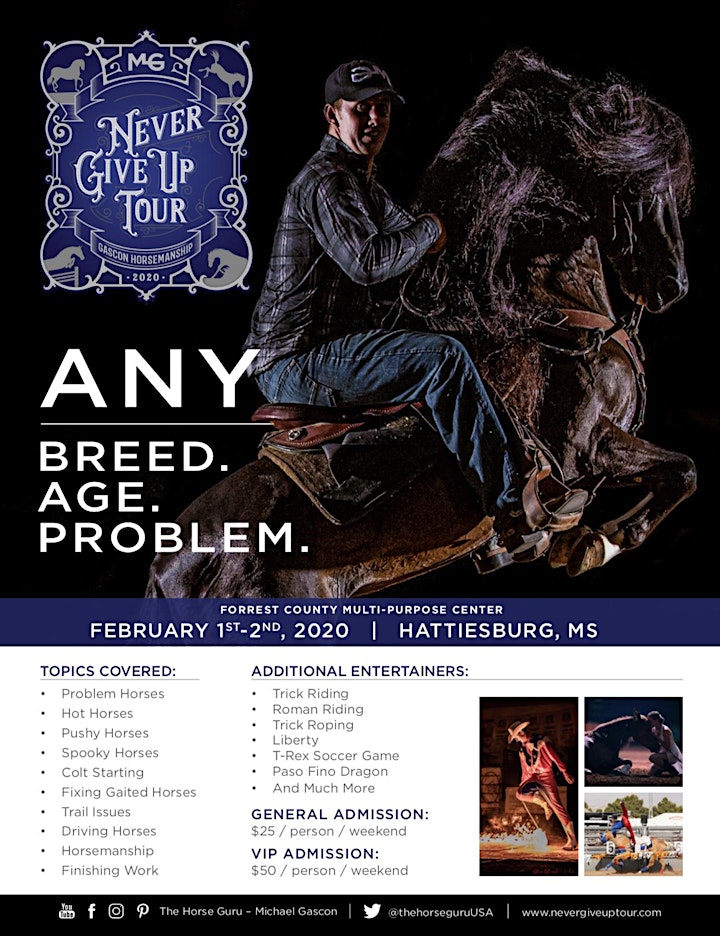 TOPICS COVERED:
Problem Horses
Hot Horses
Pushy Horses
Spooky Horses
Colt Starting
Fixing Gaited Horses
Trail Issues
Driving Horses
Horsemanship
Finishing Work
And Much More!
ADDITIONAL ENTERTAINMENT:
Trick Riding
Roman Riding
Trick Roping
Liberty
T-Rex Soccer Game
Paso Fino Dragon
And Much More!
MORE INFORMATION:
Gates OPEN at 8am and CLOSE at 6pm on Saturday & Sunday. We encourage everyone to come early and stay late to meet the horses, entertainers, get autographs, and shop for horse products! The event itself will run from 9am to 5 pm daily. There is a concession stand that will be available through-out the duration of the event.
Host Hotel Information:
Doubletree By Hilton
10 Gateway Dr
Hattiesburg, MS 39402
601-296-0302
***CALL AND USE GROUP CODE "NEVER GIVE UP TOUR"
For Discounted Rate & Free Breakfast***
Discounted Room Rates Are $94/Night For King, 2 Queen Beds, or 2 Double Beds
*All of the rooms have refrigerators, microwave, 40" HDTVs, an in-room safe, and wireless high-speed internet. Some of the highlights of the property include the convenient parking, 2 swimming pools (indoor and outdoor), 24 hour Made Market shop, fitness center, basketball court, 24 hour business center, and an on-site bar and restaurant called The Local Kitchen & Tap.*
NOTICE: We DO NOT OFFER REFUNDS on any of our services (Tour Dates, Clinics, Retreats, Private Retreats, Academy/Internship/Volunteer Programs, or Horse Training), however we will allow you to reschedule dates for Retreats, Private Retreats, or the Academy/Internship/Volunteer Programs if given a 30 DAYS NOTICE prior to the event date. This allows us to have time to fill that available spot or date.
Please do not hesitate to contact us with any questions! Thank you so much!!!
Kelsey Lauberth - Event Coordinator
gasconhorsemanship@gmail.com
VIDEO GALLERY
PHOTO GALLERY