Nevada Day Parade Pancake Breakfast; Carson City, NV - Oct. 28
Description
Nevada Day Parade Pancake Breakfast; Carson City, NV - Oct. 28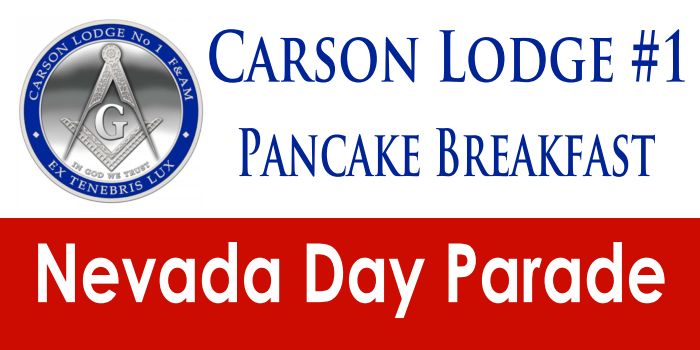 Carson Lodge No. 1 Free & Accepted Masons
Masonic Temple Association
113 E Washington St, Carson City, Nevada 89701
** Join us before the Nevada Day Parade for a Pancake Breakfast **
It is my pleasure to extend an invitation to family, friends and community to join us for our annual pancake breakfast before the Nevada Day Parade in Carson City on Saturday, October 28, 2017 starting at 6:00 a.m. - Pay at the door, cash only please, the cost in only $5.
Breakfast will be served in the dining hall at Carson Lodge #1, 113 E Washington St Carson City, Nevada 89701 (at the corner of Carson and Washington) in the former V&T Railroad depot.
We look forward to seeing you there!
Parade Information http://nevadaday.visitcarsoncity.com/
Carson City Masons (Carson Lodge #1 Free & Accepted Masons) http://www.carson1.com
charitable
fest/fair
food/drink
Please share our event:
https://www.facebook.com/events/1272992622810894