Description
This year, the Ontario Brain Institute (OBI) is hosting its annual NeuroTech Ontario Showcase in Ottawa. Come and see, touch, and experience some of the latest brain health technologies from the Ottawa region and beyond. Meet entrepreneurs and share your experiences. Learn about Ontario's neurotech cluster and OBI's innovative programs that help bring neurotechnologies to the community.
Featuring Ottawa's very own GaitTronics Inc. and its co-founder, Dr. Aliasgar Morbi: GaitTronics is a startup success story that specializes in developing robots for rehabilitation for kids and seniors. Learn how technology can be designed with considerations for the end-user to maximize positive impact on a patient's quality of care and quality of life.
#NeuroTechON
This showcase is for:
Everyone - share your perspective with companies and help shape future brain health technologies

Innovators - network with fellow innovators, find inspiration, and collaborate on the next challenge

Investors - check out the latest and greatest in one of the hottest tech sectors with great investment potential
Agenda:
3:00 pm - Showcase floor opens to general public
5:30 pm - 3 perspectives on an Ottawa neurotech startup success story: GaitTronics
6:00 pm - Open networking and demonstrations

Speakers:
Dr. Aliasgar Morbi - GaitTronics
Dr. Anna McCormick - Children's Hospital of Eastern Ontario (CHEO)
Chantal Trudel - Carleton University
Exhibitor List:
Archeoptix | Awake Labs | BKIN | Bruyere | Carleton University | CHEO | DynamicBrain | Epineuron | GaitTronics | HiNT | iBionics | Iris Technologies | NetraMark | NeuroQore | Ontario Brain Institute | ParticipAid | Personal Neuro Device | Pronura | RetiSpec | Spiderwort | SR Research | Trexo Robotics | University of Ottawa
Our community partners: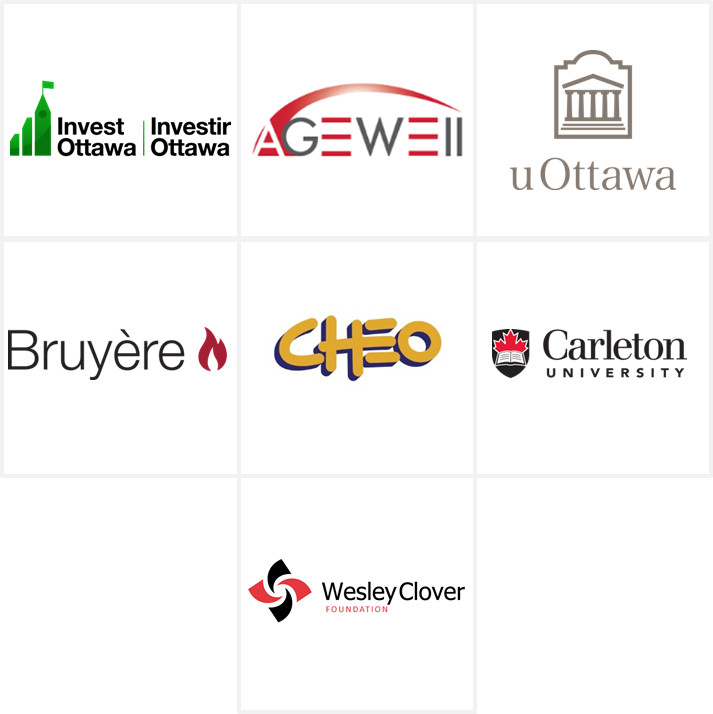 Disclaimer: OBI is not directly affiliated with the exhibiting organizations, technologies, products, or personnel unless otherwise specified. The presence of an organization at this event is not an endorsement of the company, their products, or technologies by OBI.