Total Ticket Pricing includes Ticket + Service Fee + Processing General $170.00 - Late registration starts Aug 26 $200
About this event
Your confirmation, updates, and the handout link will be sent to the email address used during registration. For this reason, it is recommended to use a PERSONAL EMAIL when registering. Many servers will block/junk large emails, especially ones coming from outside the company. 
Confirmations are sent instantly, if you do not receive verify that you typed your email address correctly and check your email junk folder.
TARGET AUDIENCE
This symposium is designed for the RN, LPN, Advanced Practice RN (NP/CNS) and allied health care professional interested in the care of neuroscience patients.
OVERVIEW/PURPOSE
Allina Health is pleased to announce Neuroscience Nursing Symposium. This event is geared towards clinical practice and implications for the Neuroscience Nurse. This one day event will include a wide variety of neuroscience presentations by both physicians and nurses.
OBJECTIVES
At the completion of this symposium, the participants should be able to:
1. Describe the role of DBS for the treatment of movement disorders.
2. Recognize the barriers to health equity, including how racism affects health.
3. Discuss the benefits of using virtual reality in rehabilitation.
4. Verbalize three communication tips when talking with someone who has aphasia or dysarthria.
5. Explain the prevalence of anxiety or depression after experiencing a stroke.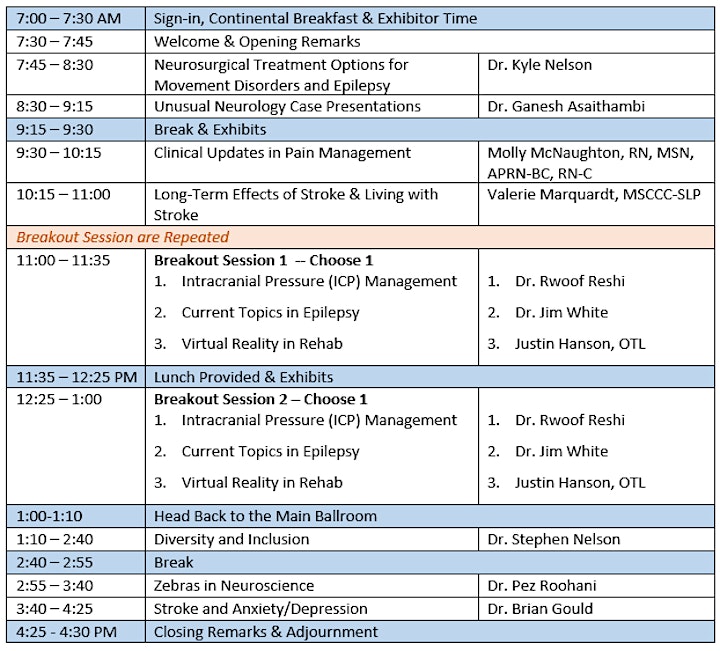 ACCREDITATION
The individual is responsible for determining whether this activity meets the requirements for acceptable continuing education for their discipline. In addition, you may be required to provide proof of attendance to the board upon request, such as a certificate and/or handout.
ANCC - This continuing nursing education activity has been submitted and is approved by the Wisconsin Nurses Association, an accredited approver by the American Nurses Credentialing Center's Commission on Accreditation. 7.3 ANNC contact hours.
OTHER - Individuals representing other professional disciplines may submit course materials to their respective professional associations for 7.3 CE units if the content is applicable to the area of license renewal.
COURSE MATERIALS
In an effort to Go Green, a link will be provided to those registered 7 business days prior to the symposium to give you an opportunity to download/print the presentations prior to the event. You will be provided with a packet/note sheets and the Wi-Fi code at sign-in should you want to follow along on your phone or tablet during the day.
SPEAKERS
Dr. Ganesh Asaithambi
Dr. Brian Gould
Justin Hanson, OTL
Valerie Marquardt, MSCCC-SLP
Molly McNaughton, RN, MSN, APRN-BC, RN-C
Dr. Kyle Nelson
Dr. Stephen Nelson
Dr. Rwoof Reshi
Dr. Pez Roohani
Dr. Jim White
PLANNING COMMITTEE
Elizabeth Kozub, MS, RN, APRN-CNS
Marie Martinez, BSN, RN, CCRN, CNRN
Chris Allen, MS, APRN, CNS, CCRN, CNRN
Naomi Benjamin, MSN, APRN, CNS, CCNS
Angelina Buerck, RN, BSN, CPHQ
Michael Johnston, RN
Lucy Furlong, DNP, RN, NEA-BC
Dawn Krause, RN, MSN, SCRN
Krista Lee, BS
Heather Odell, RN-BC, BSN, CCM
Liz Rossini, MA, BSN, RN
Michelle Stenbeck, MSN, RN, NEA-BC
REGISTRATION DEADLINE: Wednesday, August 25th
Tuition fee includes conference educational credits, continental breakfast and lunch. To ensure a comfortable environment, attendance may be capped; early registration is recommended.
In the unlikely event the program is cancelled Allina Health will not be responsible for air fare, hotel or other costs incurred by participants.
Exhibiting Opportunities are available, if interested please contact Krista.lee@allina.com
Organizer of Neuroscience Nursing Symposium 2021
We believe your most valuable asset is your good health. Our clinics, hospitals and additional care services are dedicated to meeting the lifelong health care needs of communities throughout Minnesota and western Wisconsin. Allina Health offers a full range of primary and specialty care services including technically advanced inpatient and outpatient care, 24-hour emergency care, medical transportation, pharmacy, and home and community services.
Our nearly 24,000 employees, 5,000 associated and employed physicians and 2,500 volunteers share a common mission - to deliver exceptional health care and support services to the people of our communities – putting the patient first in everything we do. Allina Health provides a complete continuum of care – from disease prevention to innovative diagnostic and treatment services for complex medical conditions.
Allina Health is a not-for-profit organization that cares about improving the health of the communities we serve not only in medical settings, but wherever people live, learn and work.
Abbott Northwestern's Neuroscience Institute is the leading center for neurological care in the Twin Cities and Upper Midwest. Each year, we perform more than 2,000 major neurological surgeries and 1,000 neuro interventional procedures. We also treat patients for neurological conditions such as stroke, tumors of the brain and spinal cord, epilepsy, Alzheimer's disease, balance and movement disorders, headaches and sleep disorders.
Advanced technology is combined with specialized physicians, skilled staff, dedicated facilities and focused programs to make Abbott Northwestern's Neuroscience Institute a comprehensive resource for neurological care and information. Recent technological enhancements include: Intraoperative MRI Suite (iMRI) and Varian Trilogy.
Learn more about the accomplishments of the John Nasseff Neuroscience Institute: See U.S.News and World Report's ranking of Abbott Northwestern as one of America's Best Hospitals in neurology and neurosurgery.