Neuroscience for Leaders 2017 Shanghai Summit 基于神经科学的领导力发展上海峰会
Description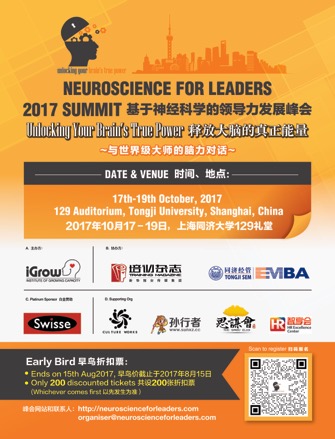 Check out the Summit on www.neuroscienceforleaders.com
We are passionate about empowering leaders to live to their highest potential in work and life.
Therefore, the purpose of this summit is to address the needs of leaders to achieve sustainable high performance with a balanced and fulfilling life.
我们对于如何赋能领导者,使他们在工作与生活中将自己的潜力发挥至最大化,充满了热情。因此,本次峰会的目的在于探讨如何利用神经科学,帮助领导者在保持全方位平衡的前提下,实现可持续的高水准业绩表现。
What is neuroscience and how can it help leaders?
什么是神经科学,它究竟会怎样帮助到领导者?
Over the last decade, neuroscientists across the globe have made some groundbreaking discoveries about the connections between physical, mental, emotional, spiritual health, and people's performance. We now know, for example, that there is indeed a strong connection between a healthy mind and a healthy body. Accordingly, it makes sense to apply these findings to leadership development.
过去十几年里,世界各地的神经学家们在生理、心理、情绪和精神健康之间的关系,以及它们对人们的业绩表现的影响做出了很多突破性的发现。比如,我们现在清楚地知道,精神健康与身体健康之间紧密相关。而将所有这些最新发现运用于领导力发展上,也是顺势而行。
These findings are showing us that there are better ways of doing business, ways that do promote business growth and success but are not stressful and harmful to the people involved, we seek to achieve business objectives while maintaining a healthy balance that keeps the wheel of overall wellness running smoothly.
这些研究发现显示,其实我们可以有更好的方法来经营管理企业,这些方法既能够促进业务的增长与成功,又不至于使得深陷其中的人们因为一味的重压而身心受损。在达成业务目标的同时,我们寻求保持一个良性健康的平衡,使得整体的康乐之轮可以运转地更加流畅。
We know this is true because there are people and organizations who are already using the principles discovered through neuroscience. You can make changes that are tangible, real, and productive right now. This is what the Neuroscience for Leaders Summit will provide to you, a forum of leading thinkers giving you the knowledge you will need.
我们知道这些都是事实,因为已经有很多人、很多企业将应用神经科学的这些发现运用在工作与生活中了。你也可以从现在开始,根据这些最新发现,作出积极的、真是的、切实有效的改变。这也恰是这一届基于神经科学的领导力发展峰会希望能够借由行业内的思想先驱,提供足够信息、知识,帮助你成就的!
Neuroscience-based leadership is booming in the West, and it is only a matter of time before China and the East take up and apply these insights.
基于神经科学的领导力发展在西方已经蓬勃了一段时间了,这些研究发现在中国和东方国家的运用,只是个时间问题而已。
Given the fast growth witnessed by the world, more and more elite Chinese are seeking alternative approaches that can sustain the high speed of development in this VUCA world, and align the heart with the mind.
中国经济的飞速发展,全世界都有目共睹。越来越多的中国精英们,也在不断寻找更加有效的途径和方法,以期在VUCA环境下,既能持续保持高速的发展,同时也满足身心协调的需要。
It is shown by neuroscientific findings that peak performance emerge when professional development goes hand in hand with personal. This Summit will foster awareness of our untapped potential, supporting the emergence of ways of thinking, working, leading, managing and doing business that are creative joyful, and impactful on a leader's life.
神经科学的一些研究发现证明,只有在专业技能上的提升与个人的心智发展携手并进时,最佳绩效表现才可能产生。 这场峰会将帮助大家意识到我们尚未利用、开发的那些潜力;支持、促成管理、领导、和经营的新思路、新做法的产生,既充满创意与喜悦,也多管理者的生活产生巨大的影响。
THE SUMMIT PROGRAM IS DESIGNED TO EXPLORE THE POSSIBILITIES, THE SOLUTIONS, AND THE PATHWAYS TO "UNLOCK THE BRAIN'S TRUE POWER" ON 3 LEVELS, WHICH ARE:
我们希望在三个层面上来探讨"释放大脑真正能量"的可能性、方案和路径, 这三个层面分别是:
Individual level 在个人层面
The brain's role in relationships, performance, mental health
大脑在人际关系,个人业绩表现和身心健康层面所起的作用
Flourishing vs. Languishing – What does higher purpose have to do with success?
昌盛Vs衰败,更高的使命感与成功的关系如何?
Seeking Outside vs. Exploring Within – Where does wisdom come from?
向外寻求Vs向内探索,智慧究竟从何而来?
Business level 在公司层面
The brain's role in relating, engaging, inspiring, and leading
在打交道,建立关系,启发和领导力层面,大脑所起的作用
Why does doing anything matters to everything?
为什么作为与不作为,以及如何作为都会影响着我们所处的体系?
Why does bringing higher purpose into the equation equal higher profit?
为什么更高的使命感能会带来更多更长远的效益?
What are the conditions for sustainable growth in this century and the next?
在现在与未来,持续高效发展需要什么条件?
Society level 在社会层面
Why and how everything is connected?
为什么一切都有彼此的相关性,它们又是怎样互相关联的?
How do we move away from a fear- and anxiety-based social norm to restore and reboot an abundance-, kindness, and compassion-oriented social norm?
如何在充斥着恐惧和焦虑的社会常态中,恢复重建一个充满善意、同理心的社会常态