Description
This a FREE event, however pre-booking is required; please register to come.
Check out all the other public events we are holding during the BNA Festival of Neuroscience.

---
Neuroscience and Education: Promises and Perils
Can we apply our burgeoning understanding of how the brain learns to improve teaching and learning in the classroom? This is a question increasingly asked by educators, scientists and policy-makers - and there is considerable debate about whether and how this might, or even should, happen.
In this lecture, we'll look at some of what we have discovered about how we acquire knowledge and understanding, how previous efforts to include the brain in education have sometimes failed, and consider the promises that insights from neuroscience might offer education in the future.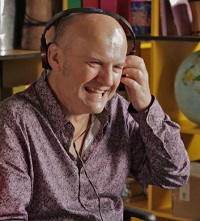 Professor Paul Howard-Jones is well known from the 'Secret Life of 4 ,5 and 6 year olds' documentaries, which give viewers an insight into the minds of children as they make their early forays in to the world and relationships around them.
However his day job is as Professor of Neuroscience and Education at the University of Bristol. His research explores the benefits offered to education by emerging technologies, aided by insight into the underlying cognitive processes.
We warmly invite everyone with an interest in neuroscience, cognition, the brain and how it learns, to come and join us for this free public lecture.
The BNA2017:Festival of Neuroscience is held by the British Neuroscience Association as a celebration of everything to do with the brain and nervous system. BNA2017 is one of the largest international meetings of professional neuroscientists in Europe in 2017, and presents the ideal opportunity to share their excitement and interest in their research with wider society. Find out about all the public events we are holding during BNA2017.
Speaker biography
Paul Howard-Jones is Professor of Neuroscience and Education at the Graduate School of Education, University of Bristol. After completing a degree in Engineering (Manchester University), and a PhD in Medical Physics (Exeter University), he pursued post-doctoral studies in speech perception at University College London. He then took a break from academia to work as a teacher of Technology at Ralph Allen School in Bath, before becoming a trainer of primary and secondary school teachers and inspector of schools based at the University of Wales Institute Cardiff (1996-2003), while also gaining an additional degree in Psychology (Open University).
Since arriving at the University of Bristol in 2003, Professor Howard-Jones's work has entirely focused on issues at the interface of cognitive neuroscience and educational theory, practice and policy. He applies diverse research methods from computational brain imaging studies to classroom observations in order to understand learning processes and their potential relevance to educational learning, and he is currently leading a major trial applying such understanding in secondary school science.
Professor Howard-Jones was a member of the UK's Royal Society working group on Neuroscience and Education (2011), authored numerous reviews and one of the first text books in this area (Routledge, 2010), worked with the Wellcome Trust and Educational Endowment Foundation in their efforts to launch their major funding programme for Neuroscience and Education (2014), and has participated in many international academic and public debates regarding the interrelation of these two diverse subject areas.
Paul is currently completing a fellowship at UNESCO (Geneva) focused on the relation of neuroscience to global educational and cultural contexts.
He is more widely known for his contributions to Channel Four's "Secret Life of Four Year Olds" and other broadcasts, and his second book "A Short History of the Learning Brain" will be published by Routledge in 2017.
Organiser of Neuroscience and Education: Promises and Perils
The British Neuroscience Association (BNA) is the first and largest UK organisation representing all aspects of neuroscience, from ion channels to human behaviour to applications in the clinic and beyond. 
Our membership includes people working in neuroscience or related fields at all stages of their career, from undergraduate students to retired members; and, having recently opened an Associate Membership category, we can now welcome those who don't necessarily work in neuroscience but who are still fascinated by the brain.
We welcome everyone interested in the nervous system to get involved. Why not join us?