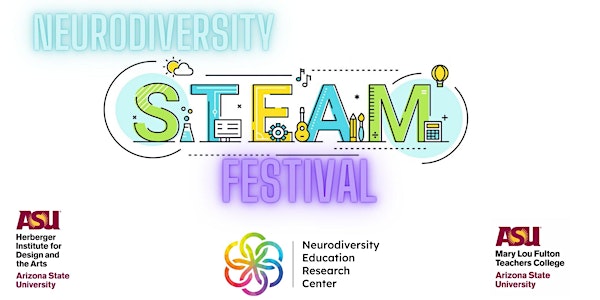 Neurodiversity STEAM Fest
Teachers, students, and parents/guardians are invited to actively engage in STEAM teaching and learning. Come play, learn, & take home tech!
By Neurodiversity Education Research Center
Date and time
Friday, June 16 · 9am - 1pm MST
Location
ASU Farmer Education Building 1050 South Forest Mall Tempe, AZ 85281
About this event
Neurodiversity in STEAM!
The Neurodiversity Education Research Center in partnership with Arizona State University, is proud to host its first annual Neurodiversity STEAM Fest to help bridge Neurodiversity in Education and STEAM Education. It has long been recognized that "one size fits all" instruction does not work for all learners. Some aspects of neurodiversity are often characterized as deficits in learning, but these same characteristics can also be viewed as talents which can be harnessed for STEAM problem-solving. Neurodivergent learners often bring unique strengths to STEAM problem-solving and should be encouraged and supported in their innovative ways of thinking.
Visit the exhibit room for a FIRST Robotics demonstration, hands-on math fun, and other STEAM activities. Then engage with innovative wearable technology for teaching/learning computational thinking concepts using music/sound. Two teacher and two student sessions will introduce the newly co-designed apps and M5Stick devices using engaging activities. Also, visit vendor booths in the atrium. There will be M5Stick/Thumb drive combos and Educator Lego We Do Core Robotic Kits given away to lucky participants at the end of the event. (Chances of taking something home are at least 2 out of 5!)
This is an inclusive event that is ideal for middle school teachers and students. Instructors and event organizers operate from the neurodiversity paradigm and have experience working with students with disabilities, including autism.
The closest public paid parking lot is on Myrtle. Parking fees will run $12-16. Once at Farmer Education Building look for signs to the event classrooms.
**Please bring a laptop with you, if available. NOT REQUIRED.
The wearable technology and activities have been co-designed by teachers from three different Phoenix area schools, researchers at Mary Lou Fulton Teachers College and the School of Arts, Media, and Engineering (ASU), and the Neurodiversity Education Research Center with funding from an NSF CS for All Grant.