Neurobehavioural Disability after Acquired Brain Injury: Selective Topics D...
Description
Neurobehavioural Disability after Acquired Brain Injury: Selective Topics Demonstrating Innovation in Practice and Delivery
Neurobehavioural disability after acquired brain injury can act as a major obstacle to psychosocial recovery by undermining a person's capacity for independent social behaviour and employment opportunities. Alterations to behaviour and personality are long-lasting and enduring. They act as a significant barrier to making and sustaining relationships and can impose a serious level of stress upon families who often struggle to adapt to life with a relative who exhibits altered patterns of behaviour. As time passes, relatives start to experience an increasing sense of 'burden', often because they are unaware of the neurobehavioural implications of brain injury and are unprepared for the emotional demands of the caregiving role.
This exciting and informative one-day conference will bring together leading experts in the field to provide authoritative accounts of the very latest clinical innovations, strategies and cutting-edge developments in the management of the debilitating symptoms of neurobehavioural disability.
The varied, dynamic and practical programme will support a wide range of rehabilitative practices and will appeal to all those interested and/or involved in the care of individuals with an acquired brain injury, including case managers, commissioners, rehabilitation and healthcare professionals, clinicians, academics and legal fraternity.
The Conference will take place on the 25th November 2019 in the Swansea Marriott Hotel, Maritime Quarter, Swansea, SA13SS.
SPEAKERS INCLUDE:
Professor Barbara Wilson OBE, Clinical Neuropsychologist, The Oliver Zangwill Centre for Neuropsychological Rehabilitation.
Dr Tracey Ryan Morgan (Consultant Clinical Neuropsychologist, Talis Consulting Limited and Swansea Bay University Health Board) & Tracy Holcroft (Brain Injury Case Manager, Stokes Case ManagementLimited)
Dr Narinder Kapur, Honorary Consultant Neuropsychologist, Imperial College NHS Trust and Visiting Professor of Neuropsychology University College London
......AND MORE!!
For a FULL list of speakers and the programme for the day, please see the conference flyer below:
You can also read a full write-up and review of our 2018 conference HERE.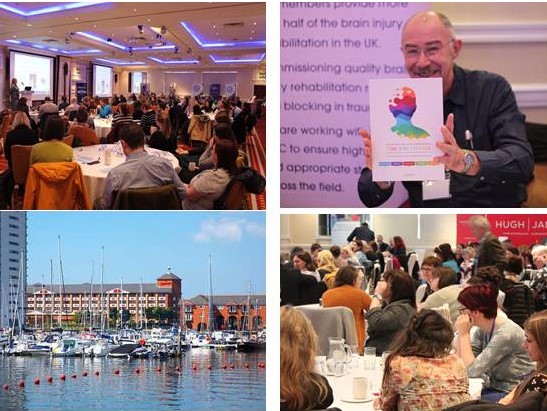 ---
FAQs
Who can I contact if I have any questions?
You can contact the organiser by email: mailto:claire.williams@swansea.ac.uk
What is included in the ticket price?
The ticket price includes entry to the conference, all talks on the day, access to exhibitor stands, and refreshments throughout the day (e.g., hot and cold buffett for lunch, all day unlimited tea and coffee, breakfast items on arival and so forth). Places for the event are limited so please register as soon as possible.
What details do I need to provide when registering?
You will be asked to provide standard details - name, contact details, role/position, organisation, e-mail address. Please note that name badges and delegate lists will be populated from the information you supply when booking. Therefore, please ensure that your title, role and affilitation is recorded as you would like it to appear on your name badge and the conference delegate list.
Will certificates of attendance be provided?
Yes - certificates of attendance will be provided to all delegates following the event. These will simply certify that you have attended the conference. In addition, please see the details under 'Continuing Professional Development' below.
Will I be awarded Continuing Professional Development points for attending the conference?
Please note that the conference is pending CPD accreditation. An application has been made to the European Accreditation Council for Continuing Medical Education (EACCME) for CME accreditation of this event. The EACCME is an institution of the European Union of Medical Specialists (UEMS): www.uems.net
Further information will be released once they become available, including the number of CPD points attached (note: CME approval is granted in principle after the event has taken place).
What are my transport/parking options?
Directions and travel information can be found here
The Swansea Marriott Hotel offers complimentary onsite car parking (subject to availability). Delegates MUST register their car registration plate at the Reception desk to avoid penalty. Should the need arise, delegates can also park at the pay-and-display carpark which is conveniently located opposite the Swansea Marriott Hotel.
***What if I have special dietary requirements?***
If you have special dietary requirements or food allergies, please email mailto:claire.williams@swansea.ac.uk. Please include your name, phone number, registration/ticket number, and details of your special dietary requirements.
What is the refund policy?
You can receive a refund up to 30 days before the event. However, please note that no refunds will be issued for no-shows on the day or cancellations requested after 26th October 2018. Please email cancellations after 26th October 2018 to mailto:claire.williams@swansea.ac.uk so that tickets can be released to the wait list.
Is my registration/ticket transferrable to another person?
Yes. If you wish to transfer your ticket to another person the contact details for the tickets can be updated to include their information. However, an additional fee (£1.50) will be charged if transferring to a different ticket type. In addition, if transferring a student/trainee ticket to a professional/corporate ticket a cost difference will apply. For step-by-step directions on how to transfer your ticket to someone else, see here
Can I update my registration information?
Yes. For step-by-step instructions on updating your registration information, see here
Do I have to bring my printed ticket/proof of identity to the event?
We would prefer you to bring your printed/electronic ticket to the event. If you forget, please be prepared to show identification on arrival so we can confirm that you are on our delegate list. Proof of student/trainee status may also need to be shown on arrival.
Is wi-fi available at the venue?
Yes. Delegates will benefit from complimentary high-speed Wi-Fi access in all public areas at the venue. The sign-in details wil be made available to you on your arrival at the conference.
What are the disabled access arrangements at the event?
The conference will take place on the ground floor of the hotel and wheelchair access is available, via lifts and ramps, to all areas and rooms in the hotel. There are disabled toilet facilities on the ground floor. Disabled car parking bays are available in the hotel car park (no pre-booking necessary). For those wishing to stay at the venue overnight, rooms on all levels are accessible but there is also fully accessible room on the ground floor (e.g., lowered countertops, wet-room).

What are my accommodation options?
A number of rooms have been put on hold for delegates at an agreed group conference rate (£109 incl. Bed and Breakfast). If you would like to book via this route, please click here. Please note that the cut-off date for booking room via this link is 25/10/2019. Any unsold rooms after this date will be released. After this date, you can of course still book a room at the Marriott directly via their website. In addition, you may also wish to search to see whether a more competitive room rate is available via sites such as Booking.Com
Are there plenty of things to see and do in the local area?
If you are visiting for a few days, there is plenty to see and do in the local area. For more information click here