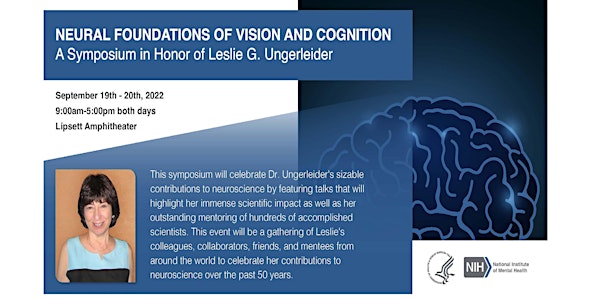 Neural Foundations of Vision and Cognition
Limited seating available on a first come, first serve basis due to COVID-19 restrictions. Live broadcasting scheduled.
When and where
Location
Lipsett Amphitheater (Building 10) NIH Campus Bethesda 10 Center Drive Bethesda, MD 20814
About this event
Symposium Summary:
The Laboratory of Brain and Cognition of the NIMH Intramural Research Program is organizing a scientific symposium in honor of Leslie G. Ungerleider entitled "Neural Foundations of Vision and Cognition" to be held in-person at the NIH campus in Bethesda, MD, on Sept 19th and 20th, 2022. Dr. Ungerleider was a pioneering neuroscientist whose work spanning five decades, ranged from single cell recordings and anatomical tracings in monkeys to PET and fMRI studies in humans, from sensory processing in V1 to attentional modulation in prefrontal and parietal cortex, and from low-level visual perceptual learning to high-level social cognition. This symposium will celebrate Dr. Ungerleider's sizeable contributions to neuroscience by featuring talks that will highlight her immense scientific impact as well as her outstanding mentoring of hundreds of accomplished scientists. This event will be a gathering of Leslie's colleagues, collaborators, friends, and mentees from around the world to celebrate her contributions to neuroscience over the past 50 years.
Event Accessibility:
We plan to conduct the symposium as an in-person event. However, depending on the status of the COVID-19 pandemic we may convert it to a hybrid or entirely virtual event. We will follow NIH Travel guidance and work with NIH Events Management to determine the best format.