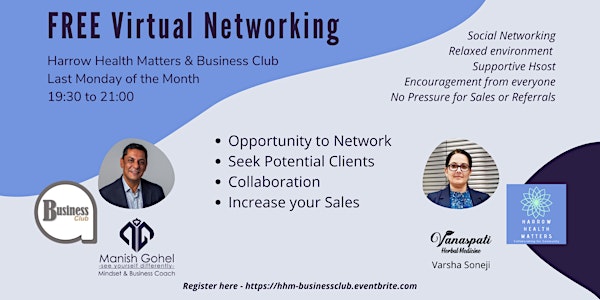 Networking with Harrow Health Matters & Business Club
Business Networking with like-minded Business Owners
About this event
FREE Online Networking with like-minded individuals and businesses.
About this event
This is a collaborative event between Harrow Health Matters and Business Club.
It is a FREE event that will include an opportunity to showcase your business, as well as gain new insights and support to help your business expand and thrive.
We're here to provide a platform where you are able to connect with other like-minded business owners and entrepreneurs.
We will be including an element of coaching from Manish Gohel (www.manishgohel.com) as well as health management by Varsha Soneji (www.vanaspati.co.uk)
We both look forward to connecting with you at the event, do bring along an open mind and a sense of humour.
What to Expect!
A relaxed environment
Supportive hosts
Encouragement from everyone
Coaching (with a twist)
Social networking