Networking Training: Little Black Book of Connections

Thursday, September 10, 2015 from 11:30 AM to 5:00 PM (EDT)
Event Details
This half-day workshop will bring your networking skills, approach, plan, actions, and results to the next level!
It is all about harnessing the power of giving value first.
How can you "climb the ladder of success without stepping on people's backs" and " how to earn respect without begging for it"
Get insights into how you can begin creating build-to-last relationships with not just your networking and referral partners but also with your customers, your co-workers, your peers, your vendors, your friends and your family. It's about being in the same space with powerful people and knowing how to connect…and how to not connect. Learn how to say the things that will get you in the right position to make the right impression and to make the right results happen.
Do you still attend the same networking groups waiting for the results to come to you? Have your networking results seemed to have plateaued recently? In this engaging, high-energy, value-packed session, you will learn the 6.5 Assets for Networking Your Way to Rich Relationships.
The 6.5 Assets in this book are:
1.) Who Do I Know?
2.) What Do I Want?
3.) What Do I Do?
4.) How Do I Connect?
5.) Who Knows You?
6.) The Secret Power of Connections
6.5) The Value of Connections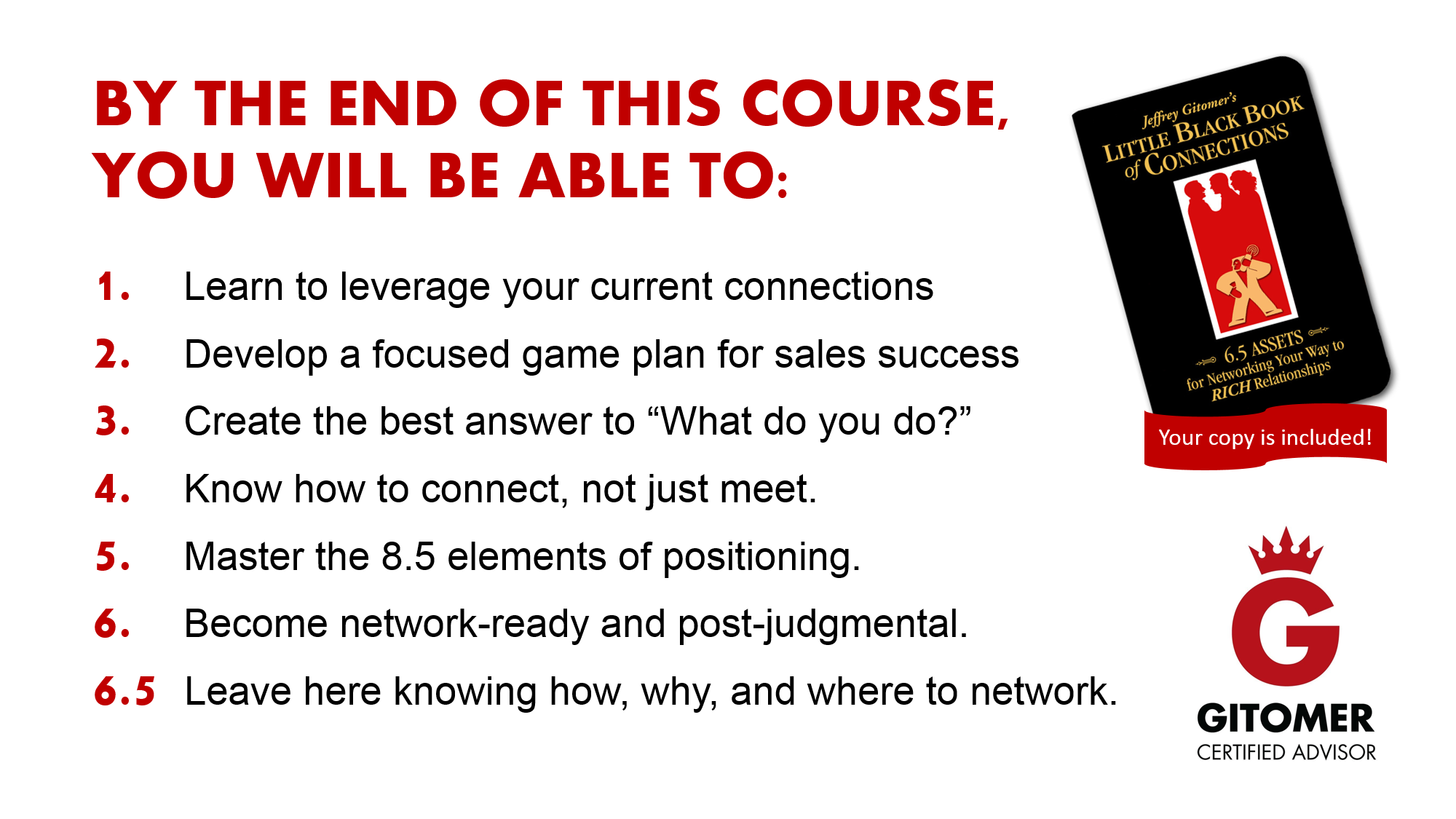 By the end of this course, You will be able to:
1.   Learn to leverage your current connections
2.   Develop a focused game plan for sales success
3.   Create the best answer to "What do you do?"
4.   Know how to connect, not just meet.
5.   Master the 8.5 elements of positioning.
6.   Become network-ready and post-judgmental.
6.5   Leave here knowing how, why, and where to network.
Who should attend:
- Employees who get asked "What do you do?"
- Sales people
- Business owners
- Managers
- Businesses who want more word of mouth referrals

When & Where

ActionCOACH Tampa Bay
2963-B 46th Ave N
Saint Petersburg, FL 33714


Thursday, September 10, 2015 from 11:30 AM to 5:00 PM (EDT)
Add to my calendar
Organizer
ActionCOACH Tampa Bay
Our focus is on helping business owners to build a saleable business that works without them and guilding executives to outwit, outplay, and outperform their past results.
Consider this.... the problems, issues and challenges you face in your business right this second have already been solved for you hundreds of times by other businesses around the world. We bring those proven strategies and tested best practices right to your doorstep with tools, templates, focused planning and accountability to get them implemented.

Our diverse team of Certified Business Coaches have been in mentoring and leadership positions for over a combined 55 years. The Tampa Bay Firm founders, Ford and Barb Kyes, have always been passionate about serving their community through their careers in health care and volunteer leadership work in numerous non-profit, civic and professional organizations. Both founding partners have been ranked Top 100 Global Coaches and additionally are certifed as Executive Coaches. Firm partner and business coach, Juliet Kyes, has been recognized as a Top 100 Global Coach, the St. Pete Chamber 2016 Member of the Year and a St. Pete Chamber Most Valuable Burger Finalist as well as a 2017 Tampa Bay Business Journal Businesswoman of the Year Finalist.
ActionCOACH ranks #35 out of the Top 100 Global Franchise, spans over 70 countries globally with over 1,000 offices worldwide and has been recognized as the World's #1 Business Coaching Franchise according to Entrepreneur Magazine's annual Franchise 500 Listing.
Networking Training: Little Black Book of Connections