Description
You're invited to an evening reception and information technology-focused roundtable hosted by Accelerate Montana in partnership with the Mansfield Center and the Mansfield Academy of Global Leadership.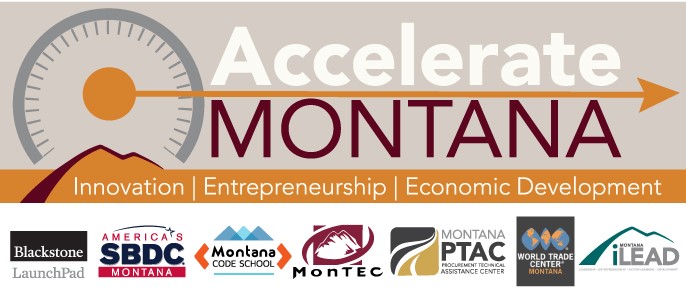 How Information Technology Innovation is Transforming Industry, Energy, and Education
Join three top international leaders from IBM, Panasonic, and Washington Corporation to discuss how advancements in information communication technology (ICT) and Internet of Things (IoT) are transforming energy management, industrial sectors, and city management. How is artificial intelligence, big data analytics, and sensors tech transforming industries? What is the latest on the Smart City and Smart World concept? What is the next generation of information and energy technologies developments that could be disruptive? What can universities do to better prepare our students for this next generation of technology development?
Panelists:
Nicholas Donofrio, former IBM Executive Vice President of Innovation and Technology, IBM Fellow Emeritus
Masato Nakamura, Panasonic Director/General Manager, International Corporate Affairs, Panasonic International
Chris Warden, Washington Corporation Vice President, Technology
Nicholas Donofrio, former IBM Executive Vice President of Innovation and Technology, IBM Fellow Emeritus
Nicholas Donofrio (chair) is a 44-year IBM veteran who held the coveted position of Executive Vice President Innovation and Technology and was also selected as an IBM Fellow, the company's highest technical honor. Mr. Donofrio holds seven technology patents, is a member of numerous technical and science honor societies, and holds several board positions.
Mr. Donofrio is focused sharply on advancing education, employment, and career opportunities for underrepresented minorities and women in the STEM disciplines. He served for many years on the Board of Directors for the National Action Council for Minorities in Engineering (NACME) and was NACME's Board chair from 1997 through 2002. He also served for several years on the Board of Directors for INROADS, a nonprofit organization focused on the training and development of talented minority youth for professional careers in business and industry. In 2003, he was awarded the Rodney D. Chipps Memorial Award by the Society of Women Engineers (SWE). He presently is co-chair of the New York Hall of Science.
He is a fellow of the Institute for Electrical and Electronics Engineers, a fellow of the U.K-based Royal Academy of Engineering, a member of the US-based National Academy of Engineering, a fellow of the American Academy of Arts and Sciences, a member of the Board of Directors for the Bank of New York/Mellon, Liberty Mutual, Delphi Automotive, AMD, and MITRE. Additionally, he is a member of the Board of Trustees at Rensselaer Polytechnic Institute and Syracuse University as well as being a member of the CT Board of Regents for Higher Education.
In 2002–2003, he led the work effort for the Council on Competitiveness around their National Innovation Initiative (NII), which went on to become the America Competes Act.
In 2005, the US Department of Education appointed him to the Commission on the Future of Higher Education, a 20-member delegation of business and university leaders charged with developing a national strategy for post-secondary education to meet the needs of America's diverse population and workforce.
In 2011–2012 he chaired a special committee tasked by the Governor of Vermont to evaluate the relationship between the State of Vermont and the University of Vermont (UVM).
Donofrio holds a master's degree and a bachelor's degree in electrical engineering from Syracuse University and Rensselaer Polytechnic Institute, respectively. He has received honorary doctorates from Polytechnic University (now NYU-Poly), University of Warwick, United Kingdom, Marist College, University of Edinburgh, United Kingdom, Pace University, National University of Ireland, Maynooth, and Syracuse University.
Masato Nakamura, Panasonic Director/General Manager, International Corporate Affairs, Panasonic International
Masato Nakamura has been working for Panasonic Corporation since 1998. He has served as Vice-President of Panasonic Russia and managed Panasonic Security Systems divisions in different countries for many years and developed several key projects which contributed to the growth of Panasonic business, such as a joint venture task force with the leading manufacturers of security surveillance technologies in the UK, the USA, and European countries. He was in charge of pilot projects in biometric identification in the UK targeting such tasks as immigration control at Heathrow Airport, drivers' license registration, and social ID recognition. Mr. Nakamura was a mentor for business development projects at RPI Incubation Center (Rensselaer Polytechnic University, USA), a mentor for Asahi Forum "HR Development Strategy for Globalized Society", and a member of the Advisory Board at International University of Japan.
Chris Warden, Vice President of Technology for Washington Corporations


Chris Warden is the Vice President of Technology for Washington Corporations, a shared service organization that provides business services to the Washington Companies, a group of privately held companies owned by industrialist Dennis R. Washington.
Chris is responsible for helping simplify, standardized and source common business functions and for providing each company with strategic advice on how to best use technology to support and improve the business.
Born and raised in Great Falls, MT, Chris is a graduate of the University of Montana with a degree in Business Administration. Prior to the Washington Companies, Chris worked for fifteen years in Silicon Valley for companies in the semiconductor, software, consulting and venture capital industries.
Date and Time
Location
Harold and Priscilla Gilkey Building, University of Montana
Reception in the downstairs Garden Foyer; roundtable in the Thompson Auditorium (room 105)
32 Campus Drive
Missoula, Montana 59812