Networking Happy Hour - For professionals working with special need familie...
Description
You are invited to an evening of netwroking with other professionals in the special need community.
Exchange information, ideas, and establish mutual beneficial relationships and community union. We invite adults of all abilities to come an share their ideas to make the Miami community more inclusive, spread awareness, and take action to help other individuals with special abilities to have a wholesome life.
Take advantage of the 2x1 drinks and check out our silent auction.
Feel free to invite other co-workers, friends, or colleagues.
ADVERTISE FOR FREE - SPECIAL NEEDS RESOURCE DIRECTORY OF MIAMI.
We Coach Foundation is working on putting together an updated list of providers for special need families in the Miami area. The publication will be released on November 4th during our Transition Conference for Special Needs Families: Fostering Functional Futures"
2500 hard copies will be distributed in the community, and directory will be available online.
All professionals participating of our upcoming networking event on October 4th will be able to list their companies/organizations in the guide, and will receive a business card ad for free!!! RSVP!!!

IMPORTANT!!!
On October 4th, during the networking event, We Coach Foundation will be collecting water and gift cards for the following stores: Publix, K-Mart, and Home Depot. All collected donations will be personally delivered on October 10th to The Autism Society of The Keys and their families in Key West. With your help, we look to make an impact with the recovery efforts.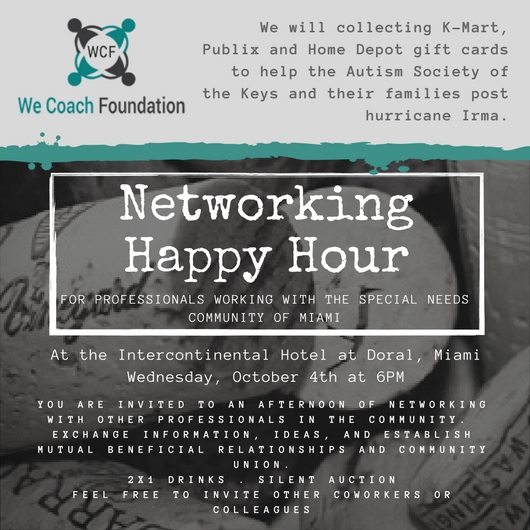 For more information about the Transition Conference for Special Needs on November 4th visit our website: www.wecoachfoundation.com