WEWLA will be hosting a Virtual Networking for Women in Business Event the 2nd Thursday of every month!
About this event
Join WEWLA members as we connect, socialize, share business tips and opportunities with each other while learning new ideas on how to stay in front of our audience 😄
For the month of December, we have a special guest coming to share how to get your speaking gigs lined up. You don't want to miss out!
Here is the link to register for our Zoom Networking event!
Women Empowering Women - Los Angeles is a community of +4,500 women who are all about community, support and showing up as the #Boss Woman you are 😎
Visit WEWLA.COM to see more about who we are and what we do.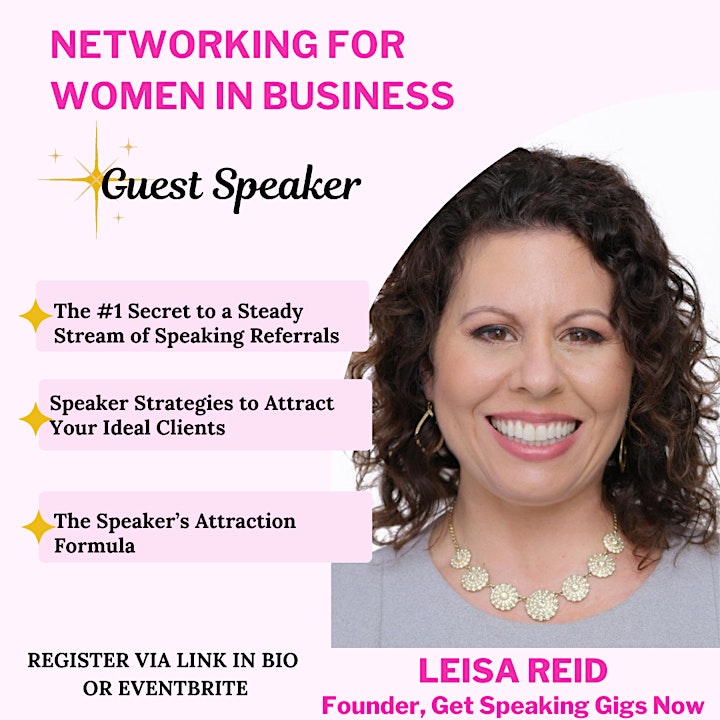 DECEMBER'S SPEAKER - LEISA REID
Whether you are a speaker or not, there is no doubt that we all have expertise that can leave an impact in the world once it is shared. As the Founder of Get Speaking Gigs Now, Leisa Reid mentors business professionals and entrepreneurs who want to make an impact and ultimately attract their ideal clients through speaking. As a speaker herself, Leisa has successfully booked and delivered over 500 speaking engagements. In her book, Get Speaking Gigs Now, she shares her 7 Step System to Getting Booked, Staying Booked and Attracting Your Ideal Clients Through Speaking. To learn more visit: https://GetSpeakingGigsNow.com
TALK DETAILS:
How to Grow Your Business Through SpeakingWant to make a bigger impact in your business? Leisa Reid shares expert secrets on how to utilize the popular technique of public speaking to broaden your reach and attract more ideal clients easily. This session is most suitable for business owners and entrepreneurs who want to use the power of public speaking to groups to attract their ideal clients and make an impact on the world.
In this talk you will learn:
The #1 Secret to a Steady Stream of Speaking Referrals2 Speaker Strategies to Attract Your Ideal ClientsThe Speaker's Attraction Formula
Organizer of Networking for Women in Business
Francine is the CEO & founder of the Women Empowering Women - LA as well as founder of the Facebook group Women Empowering Women – Los Angeles. 
In 2017, Francine found herself in a state of loneliness and depression. But she had the grace to rise above her own suffering and realized there were probably many other women feeling the same and nor herself or these other women could go through this alone. So in an effort to drag herself out of her own slump, she founded WEW-LA as a support group on Facebook. A community of women to inspire and empower one another.
Today, we are proud to say that WEW-LA has grown to over 3,000+ members and rising every day. 
In 2019, we kicked off our first Women's Day Summit which brought women from all over Los Angeles to join us in the wave of encouraging other women to rise, unite, and conquer anything they set their mind to. 
So, Francine not only hosts and creates amazing women empowerment events, but she also coaches, speaks, and hosts Women workshops to help others take their lives to the next level.
Her big vision is to create a community of women that can support each other across the nation, to create a foundation that empowers and uplifts women that go through tough times because she believes that in this journey of changing lives one day and one person at a time, it takes time, patience, and consistency. 
Join Francine in her mission of creating a foundation that will support women and children. Any support big or small helps to improve one life at a time.
WEW-LA is in the process of kicking off our very own nonprofit that will focus on empowering women and children in life and career by giving them the proper mentorship and leadership tools needed for success.