Networking Doesn't Have To Suck

Saturday, September 27, 2014 from 8:30 AM to 12:00 PM (EDT)
Event Details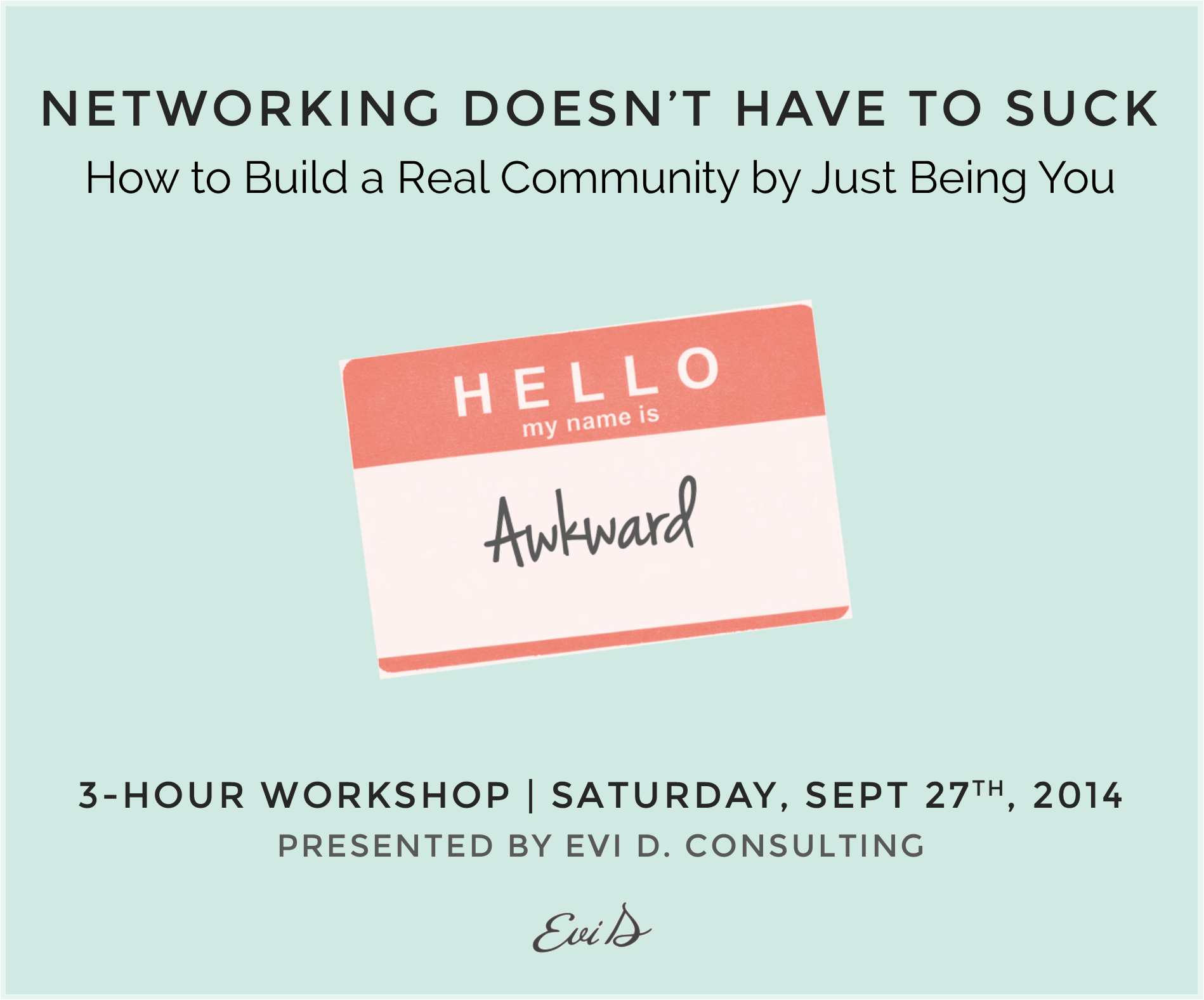 You're trying to build your client list, land your dream job or make new friends. But the idea of networking makes you cringe. The thought of going to another event--pushing your card in front of people, engaging in superficial conversations while wearing clothes that don't reflect your awesomeness--is exhausting. 

It doesn't have to be this way. 
Networking Doesn't have to Suck is a three hour workshop that empowers you to build community while being true to who you are. 
You'll walk away with tools to:
Show up confidently in a room full of strangers

Save time and navigate follow-up and a busy event calendar

Prevent the "business card grave yard"

Remove yourself from awkward conversations
As a bonus, you'll leave with a non-sales-y elevator pitch and a solid strategy to create meaningful relationships that turn into clients, friends, partners and new opportunities.
About Evi D. 
Evi D. has over a decade of experience creating and maximizing diverse, cross-sector relationships. A natural connector, she desires to make the networking experience accessible to all professionals by focusing on authenticity, intentionality and strategy. A testament to her walking the talk, she has not only increased her own network by 400% in five short years, but also utilized this network to raise over 300K in support for the causes she cares about. In response to resounding feedback from peers, clients and business partners, EviD is pleased to offer "Networking Doesn't Have to Suck," the first in a series of workshops that complement her successful consulting and coaching practice. She did it and now here's your opportunity to build a real community by just being you. 
What Clients Think
"The concrete work plans and setting clear priorities has certainly been helpful, but the emotional support has been equally, if not more, valuable I would say. Whenever I walk away from a session with Yvonne I am confident in my vision and that I'm the right person to be pushing forward on my startup. I always walk away from our sessions with a clear work plan and reminder of the progress I'm making. Evi D has also done an excellent job of connecting me with the technical resources I need to move forward. Yvonne is well connected in the Atlanta startup community and I know I can trust the web developers, financial consultants, etc she puts me in touch with." -Jason Seagle, Vayando
"The sessions with Evi D. were helpful in me shedding the need for outside validation or understanding, from particular people and also from the world at large." -Beth Clark, The City Dweller

"Before I began working with Evi D., I was feeling stuck. I was confident in my network and community but unsure of my own talents and how to piece everything together. I knew I needed to learn how to get out of my own way and Evi D. helped me in asking tough questions to begin accessing deeper parts of my own thought process." -Johnathan Fields

"Yvonne is the perfect mix of professionalism, creativity, strategy and vision. I highly recommend her coaching services." -Roshawnna Novellus, Novellus Financial



 
When & Where

Nex Atlanta
318 Cherokee Avenue Southeast
#104
Atlanta, GA 30312


Saturday, September 27, 2014 from 8:30 AM to 12:00 PM (EDT)
Add to my calendar
Organizer
Yvonne Druyeh Dodd (Evi D. for short) is passionate about helping creatives and entrepreneurs get the clarity, confidence, and strategy they need to do profitable, sustainable work. She is the creator of the Authentic Hustle, a series of workshops and programming that covers everything from mindset and self care to building valuable networks and mission-driven strategic planning.