Networking 101 Breakfast at The Pyramid Club

Monday, April 22, 2013 at 7:20 AM (EDT)
Event Details
Be My VIP Guest For Breakfast at 
The Pyramid Club
Power Hour Breakfast of Networking Champions
Networking 101: Technique and Strategy
Monday. April 22nd 7:20am  
This Group Will Be Limited To Only 16 Individuals
At This 1 "Power Hour" Event You Will Have The Opportunity To:

Learn Networking Skills

Tell and Hear Everyone, Who You Are And What You Do.

Collect Everyone's Business Card.

Enjoy a Great Meal.

Meet Other Like Minded Professionals.

Create New and Cultivate Existing Business Relationships.
Here's How It Works:
7:15am - Registration Opens

7:15-7:45-Networking intro's/Breakfast, Business Card Carousel        

(Everyone Gets Your Card)

7:45-8:20 -Networking 101/ Hear From Our Sponsor

8:20-8:40+ Open Networking

8:40 -9am Open Networking Continues For Those Who Can Stay..

Note: We have the room until 9:30am for those who would like to stay.
Power Hour Networking is a Fully Sponsored, "By Invitation Only" Networking Event Exclusive To Ultimate Networking Attendees and Their Guests Only"
If You Received an Invitation, There is No Cost To Attend, The Sponsor Picks Up The Entire Cost of The Event Including Your Meal. During Your Meal Learn Networking Techniques and Strategies From Thomas Camarda, Founder of The Ultimate Networking Group. Then, Our Sponsor Christian Crescenzo covers, Jim Rohn's 12 Pillars of Success

On Jan. 3rd 2013, Thomas Camarda, Gus Calabrese, and Christian Crescenzo Came Together With Other Networking Professionals To Launch a New Project, An Initiative to Generate Revenue Through Everyday Networking Efforts. In 30 Days This Project Generated Over $10,000 Profit.
Today Our New Project Has Generated Over $75,000 In Profit For Professionals In Philadelphia. 
Come Join Other Professionals at The Exclusive Pyramid Club and Learn How To Monetize and Maximize Your Networking Efforts Through Our New Project.
Maximize and Monetize Your Networking Efforts 

A New Year Brings New and Exciting Chances To Succeed! 

Come network and see our new project that can result in multiplying your stream of revenue/income. 

 
Last Week Was A Sell Out,
Don't Miss This Week!
See What Everyone's Been Talking About.
This Is Your Chance to Get 100% Of The Information You Need!
This new project will work hand in hand with our Ultimate Networking efforts.
Looking forward to hearing from you.
Happy New Year.
Tom Camarda
732-744-4719
When & Where
1735 Market St
52nd Floor Mellon Bank Bldg.
Philadelphia, 19103


Monday, April 22, 2013 at 7:20 AM (EDT)
Add to my calendar
Organizer
Ultimate Management Group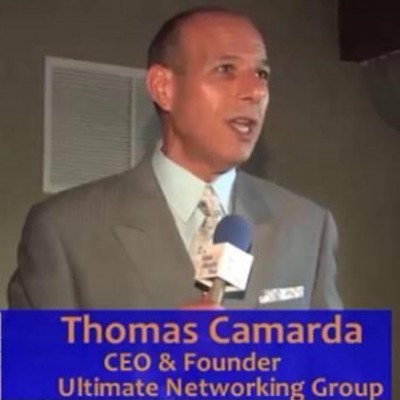 Join Thomas Camarda, Founder of The Ultimate Networking Group, as we help you Monetize and Maximize Your Network through relationship building techniques and strategies developed over 30 years of his personal networking experiences.
Networking 101 Breakfast at The Pyramid Club