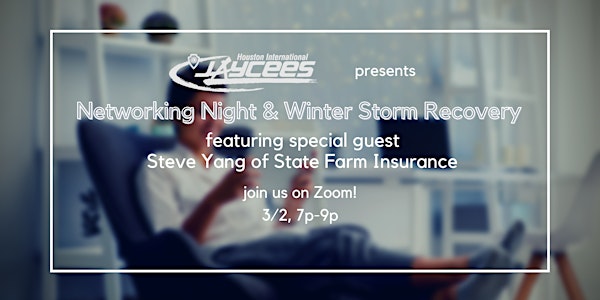 Network Night & Winter Storm Recovery: Insurance Claims & Process Q & A
Networking Night with Insurance Claims & Processes Q & A on 2021 Winter Storms Recovery and Preparedness Info for upcoming Tax Season!
About this event
All of Texas was hit by the winter storms last week and many people suffered great damages to their homes. Not sure what to do? Then, come and join the Houston International Jaycees for their monthly networking night on Tuesday, March 2, 2021 on ZOOM, starting at 7 PM CST with 2 special guests.
Steve Yang, a seasoned State Farm insurance agent, with over 23 years in the insurance field, will teach and go over tips about insurance claims and processes to help you learn more on what to do if your homes suffered damages during the winter storms.
Learn more about him at https://www.steveyanginsurance.com
Also, two resprentatives from Golden Bank will help you get ready for the upcoming tax season with follow sessions:
2021 Tax Season – presented by Terry Hou
IRA – presented by Akbar Zaidi
Afterwards, stay to network with other young professionals from all over and see how we are all doing after the winter storms.
General Meeting: 7:00 PM - 7:15 - Mix and Mingle
2020 Tax Season & IRA: 7:15 PM - 7:35
Winter Storm Recovery: Insurance Claims & Process Q & A: 7:40 pm -8:25pm
Virtual Networking Night- 8:30-9
Nicole Jones is inviting you to a scheduled Zoom meeting.
Join Zoom Meeting
https://us02web.zoom.us/j/89342667542?pwd=N21GMzFCWTBSNGpKRk9vVkFBOTk1dz09
Meeting ID: 893 4266 7542
Passcode: 335529
Contact Nicole Jones, 2021 President from more information at jcihoustonintl@gmail.com
----------------------------------------------------------------------------------------------
The Houston International Jaycees are an award winning young professional organization that develops leadership through service to humanity. Houston International Jaycee's goal is to help young professionals between the ages of 18 and 40 develop personal and leadership skills and give them the tools to build the bridges of success for themselves in the areas of business development, management skills, individual training, community service, and international connections.
https://jcihoustonintl.org