Event Information
Location
Online Event
You will be sent the Zoom link after registration.
Description
I want to take you from overwhelmed to organized!
As a network marketing professional with a growing team, you're pulled in many directions. You need to serve your customers; assist your event hosts, arrange to be a vendor; share your company's opportunity; and manage your team.
It will be very difficult for you to grow the successful business that you know you're capable of building if you're not organized and have systems in place for each of those.
I know that just thinking about each of those areas of business can be overwhelming and leave you paralyzed, let alone taking action on them.
I've got you covered!
I'm not going to ask you to work on all of those at once. That's an impossible task that only leaves you frustrated!
I'm going to work with you to break your business activities into smaller, more manageable chunks so you can get them right from the start.
By getting even one business activity into a written process, you save time, which can then be used to develop the next process, and so on. I'm not going to lie - it will take time, but it will be so worth it in the end when you'll feel confident in your business. When you wake up each day knowing exaclty what you need to do, and how to do it.
What this workshop will do
This foundational workshop is designed to help Network Marketing and Direct Sales Professionals develop an outline for YOUR specific customer business activities; including what templates, checklists, and automation you may need to support those activities.
We'll do this in two simple steps:
1. We'll spend 10 minutes brainstorming as many customer facing business activities as possible.
2. You'll pick one of those activities and I'll take you through steps of creating your process steps and workflows for that one activity.
By the end of this workshop you'll have a list of customer facing processes and one completed process. You'll also have the Creating Your Business Process Worksheet so you can get more of your processes written even after the workshop is over!
Once you have processes and systems in place you'll be able to:
Feel more confident talking with potential customers because you'll know exactly what step is next.
Give potential and current customers the right information when they need it - and you'll know exactly where to find it!
Gve your customers a fabulous and consistent experience.
Track which customers are due for a refill and when to follow up.
My Streamline Your Customer Processes workshop is a great fit if you want to learn how to create repeatable and efficient systems to build your business. You'll get the tools you need to organize your business activities into repeatable process and workflows.
What this workshop won't do
We won't create all of your processes in this workshop. However, you will get the tools and information to continue the process you start in the workshop as well as create new ones back at your office.
Although I'll mention some platforms and tools, this workshop won't go in depth because there are too many and each business's needs are different.
While I don't create any supporting documents for you, I give you ideas and tips that have worked for my own clients and other small business owners.
What you'll get
Expertise, Knowledge, and Guidance
My name is Lisa Shaughnessy and I'm your workshop leader. I have over 25 years' experience creating business proceses, workflows, and supporting documents for a variety of businesses - large and small. So you won't get some generic workshop. You'll get my collective knowledge and expertise to help you document your processes as well as ideas on platforms and tools to help you grow your business. Every time I hold a workshop or work with a client, I gain new knowledge that you'll benefit from.
The Business Process Guide
At the workshop you'll get a hardcopy of the Business Process worksheet so you can learn what type of information you need to create an effective workflow, and you can ask questions about it before you try it on your own. This guide is yours to keep, and can be used when determining other workflows for your business. I'll send you a soft copy after the workshop for your future use.
Process Driven Success
By the end of this workshop, you'll have an outline of your customer-related actvities. You'll also have a roadmap on how to document and organize them so you'll head back to your office with a better grasp of how you can fine tune your business as a well-oiled machine.
Class size is limited to 8 people so I can provide sufficient one-on-one guidance for each participant. Sign up now to reserve your spot and eliminate lost opportunities as soon as possible.
---
FAQs
I don't have any processes, would this workshop still be a good fit for me?
Yes! If you're in business you have processes. They may not be written down or standardized, but every time you post to social media, send your email newsletter, follow up with a potential customer, etc you've followed a process. This workshop will help you understand what processes you need.
What is the refund policy?
This is a non-refundable ticket and isn't transferrable to another workshop.
---
Testimonials from previous workshops and process clients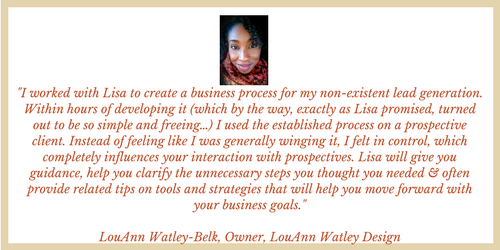 ---

---
---
ABOUT LISA SHAUGHNESSY
"In life and in business, we are often told to 'trust the process", I've found the best way to do that is to create the best processes possible. Everything I do and teach is grounded in real-time and real people, so that businesses and their owners alike can get real results." ~ Lisa Shaughnessy
Lisa Shaughnessy has over 25 years' experience creating and implementing processes and workflows for government agencies, corporate offices, and small businesses. After working for others for many years, she started her own consultancy helping small businesses increase growth and revenue. Through her Simplified Workflows for Business Success™ workshops and consulting services, Lisa's clients successfully get business activities out of their heads and into written, repeatable processes, enabling them to easily hand off tasks to others, open more time for clients, and prevent costly mistakes. She is also a speaker and writer on a variety of small business topics. When she's not helping small businesses reach their full potential, Lisa loves to travel, golf, and hang out with her husband Rob, family, and friends.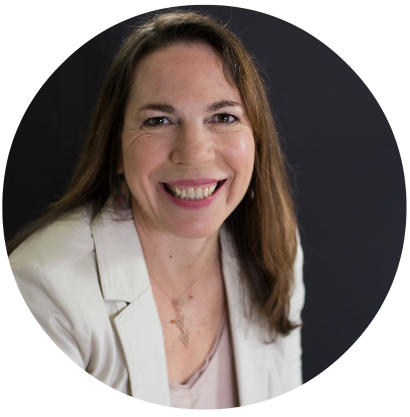 Date and Time
Location
Online Event
You will be sent the Zoom link after registration.
Refund Policy