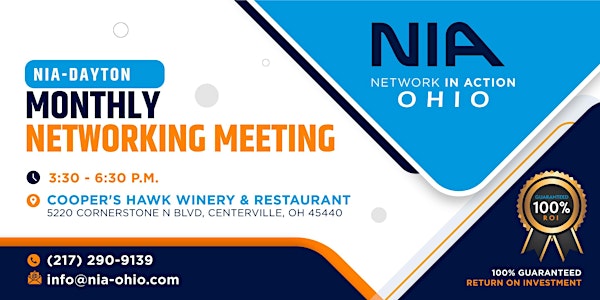 Network In Action - DAYTON: Monthly Networking Meeting
Join us for NIA-DAYTON's monthly event where guests are welcome to attend, participate, and learn more about our guaranteed ROI!
When and where
Location
Cooper's Hawk Winery & Restaurant 5220 Cornerstone North Boulevard Centerville, OH 45440
About this event
FREE event in Dayton, Ohio, on Wednesday, December 7th, from 3:30pm to 6:30pm, at Cooper's Hawk Winery & Restaurant, 5220 Cornerstone N Blvd, Centerville, OH 45440
Grow Your Network = Grow Your Business
This is a FREE informational event for people who want to:
Expand their network of professionals
Increase their personal growth in any position
👉 Helping 𝐥𝐨𝐜𝐚𝐥 𝐛𝐮𝐬𝐢𝐧𝐞𝐬𝐬𝐞𝐬 get connected and 𝐛𝐮𝐢𝐥𝐝 𝐫𝐞𝐥𝐚𝐭𝐢𝐨𝐧𝐬𝐡𝐢𝐩𝐬 that last a lifetime!
➡️ 𝐎𝐔𝐑 𝐌𝐈𝐒𝐒𝐈𝐎𝐍:
We believe that the perfect mix of innovative technology and face-to-face networking will help businesses grow!
➡️ 𝐖𝐇𝐀𝐓 𝐖𝐄 𝐃𝐎:
Network In Action is different from all other business networking organizations. We aim to continue disrupting the industry and raising the bar to bring value to our members.
The NIA Member experience is 𝐥𝐢𝐤𝐞 𝐧𝐨 𝐨𝐭𝐡𝐞𝐫 𝐛𝐮𝐬𝐢𝐧𝐞𝐬𝐬 𝐧𝐞𝐭𝐰𝐨𝐫𝐤𝐢𝐧𝐠 𝐠𝐫𝐨𝐮𝐩!
➡️ 𝐇𝐎𝐖 𝐖𝐄 𝐃𝐎 𝐈𝐓:
We are the only Networking Group that 𝐆𝐔𝐀𝐑𝐀𝐍𝐓𝐄𝐄𝐒 your ROI – we call it Return on Relationships!
Once a year, we coordinate an opportunity to serve and 𝐠𝐢𝐯𝐞 𝐛𝐚𝐜𝐤 to our local community!
We meet 1X per month for 90-minutes, 𝐬𝐚𝐯𝐢𝐧𝐠 𝐲𝐨𝐮 𝟖𝟎+ 𝐡𝐨𝐮𝐫𝐬 every year!
Every meeting is carefully structured with a set agenda full of training, networking, giveaways, etc.!
➡️ 𝐖𝐇𝐀𝐓 𝐌𝐀𝐊𝐄𝐒 𝐔𝐒 𝐃𝐈𝐅𝐅𝐄𝐑𝐄𝐍𝐓:
❌ 𝐍𝐎 Weekly Morning Meetings
❌ 𝐍𝐎 30-second elevator pitches to the same group of people
❌ 𝐍𝐎 Weekly volunteer leader & coordinator
❌ 𝐍𝐎 Referral shaming
✅ Monthly Meetings – This saves you 𝐭𝐢𝐦𝐞 & 𝐦𝐨𝐧𝐞𝐲 every month!
✅ Professional Leadership – My responsibility is to 𝐬𝐞𝐫𝐯𝐞 𝐲𝐨𝐮 and your business!
✅ Refer with Confidence - Personality profile and 𝐛𝐚𝐜𝐤𝐠𝐫𝐨𝐮𝐧𝐝 𝐜𝐡𝐞𝐜𝐤𝐬 on every member!
✅ Technology – With our 𝐬𝐦𝐚𝐫𝐭𝐩𝐡𝐨𝐧𝐞 𝐚𝐩𝐩, you can pass and track referrals with ease.
✅ Bonus Events - 𝐑𝐎𝐈 𝐠𝐮𝐚𝐫𝐚𝐧𝐭𝐞𝐞 that bring together all the NIA members around Ohio, and North America!
✅ Guaranteed ROI - No other networking organization offers an 𝐑𝐎𝐈 𝐠𝐮𝐚𝐫𝐚𝐧𝐭𝐞𝐞, but we do! If you do your part, your second year is 𝐅𝐑𝐄𝐄!
SEATS ARE LIMITED SO BE SURE TO REACH OUT AND CONFIRM!
Contact me today!
📅 https://calendly.com/nia-ohio/intro-to-nia
📞 (217) 290-9139
📧 info@nia-ohio.com