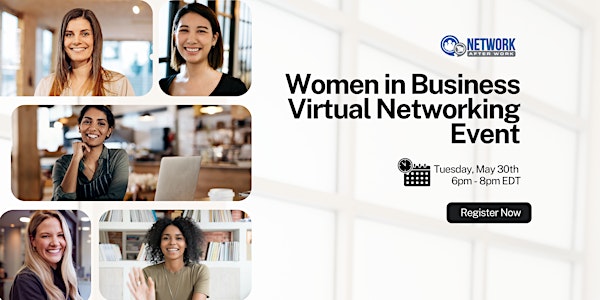 Network After Work Women in Business Virtual Networking
Join us for an empowering and dynamic virtual networking event designed exclusively for women in business on Tuesday, May 30th at 6pm EDT.
Date and time
Tuesday, May 30 · 3 - 5pm PDT
About this event
Are you a driven and ambitious woman looking to expand your professional network, gain valuable insights, and connect with like-minded individuals? Look no further! Our Women in Business Networking event is the perfect platform for you to build meaningful connections, foster collaborations, and unlock new opportunities.
This virtual event aims to bring together a diverse group of women professionals from various industries, including entrepreneurship, finance, technology, marketing, and more. Whether you're a seasoned executive, a budding entrepreneur, or someone looking to explore new career paths, this event promises to inspire, empower, and support your personal and professional growth.
Date: Tuesday, May 30th
Time: 6:00 - 8:00 PM EDT
Location: Virtual (via zoom)
Don't miss this incredible opportunity to connect, learn, and grow with a vibrant community of women in business. Register now to secure your spot at the Women in Business Networking event and unlock a world of possibilities!
Learn more about our Women in Business Network HERE!
Why you need to be there:
Convenient digitally-driven events take a distinctly 21st-century approach to professional networking. 
Participate from your home or office.
Meet business owners, entrepreneurs, executives and career-minded professionals from across the country. 
About the organizer
Network After Work is a professional community consisting of Entrepreneurs, Professionals, Executives and thought leaders who understand the importance of building meaningful connections. Built on the idea that professionals in every industry across the world all share a common goal, to develop strong relationships that help grow their businesses and careers. Through meeting in-person and virtually, Network After Work provides a platform that makes connecting easy. Hosting live events in 86 US locations with plans to add additional US cities and international locations, growing your business and relationships has never been easier.
For 10 years, we have been at the forefront of face-to-face business connections. As social media and virtual relationships have been all the rage over the past decade, we have found that live interactions are still the best way to build solid connections. Shaking hands and looking someone in the eye is an invaluable skill and builds the strongest foundation for long-lasting connection.
Though meeting in-person is our foundation, meeting virtually is a great accompaniment to our signature live events. With our goal to make your business connections long-lasting and sustainable, our mission is to do everything for you, all you need is the desire to seize new opportunities and the willingness to help others.