Description


Netwalking Presents:

How to teach your dog to run, walk, and hike beside you




The connection between wandering feet and a productive brain is so strong and so long-lasting.




To maximize our time and be the most effective, energetic, productive, and have authentic, extraordinary experiences, shared that's Netwalking.




We combine wellness, engagement, and creativity on a 2 mile relaxed and stress-free leisure paced walk for all fitness levels. We want you to feel happier, healthier, and more connected to your internal and external community. We provide opportunities to meet everyone fostering deeper connections, help you explore and discover the vibrancy of the neighborhood through meeting local businesses and creatives, and walk and talk with our speakers. Netwalking changes the power dynamic. Walking outside is a shared space and helps break down barriers.



You will walk and talk with our speakers, fellow Netwalkers, learn dog training tips, good advocates for pet policies at our National Parks, network with attendees, and meet cool local pet-friendly businesses.
Speakers
Event Schedule
:
2:00 p.m. Arrivals and Networking

2:15 p.m. Welcome Message (promptly start)

2:20 p.m. Netwalking Leaders Introductions

2:25 p.m. Netwalker Introductions

2:30 p.m. Netwalk with 3-4 breaks for storytelling, photography, re-paired with the group, and stop by to connect with local businesses

4:15 p.m. Beverages and conversation at Wet Dog Tavern (outside patio)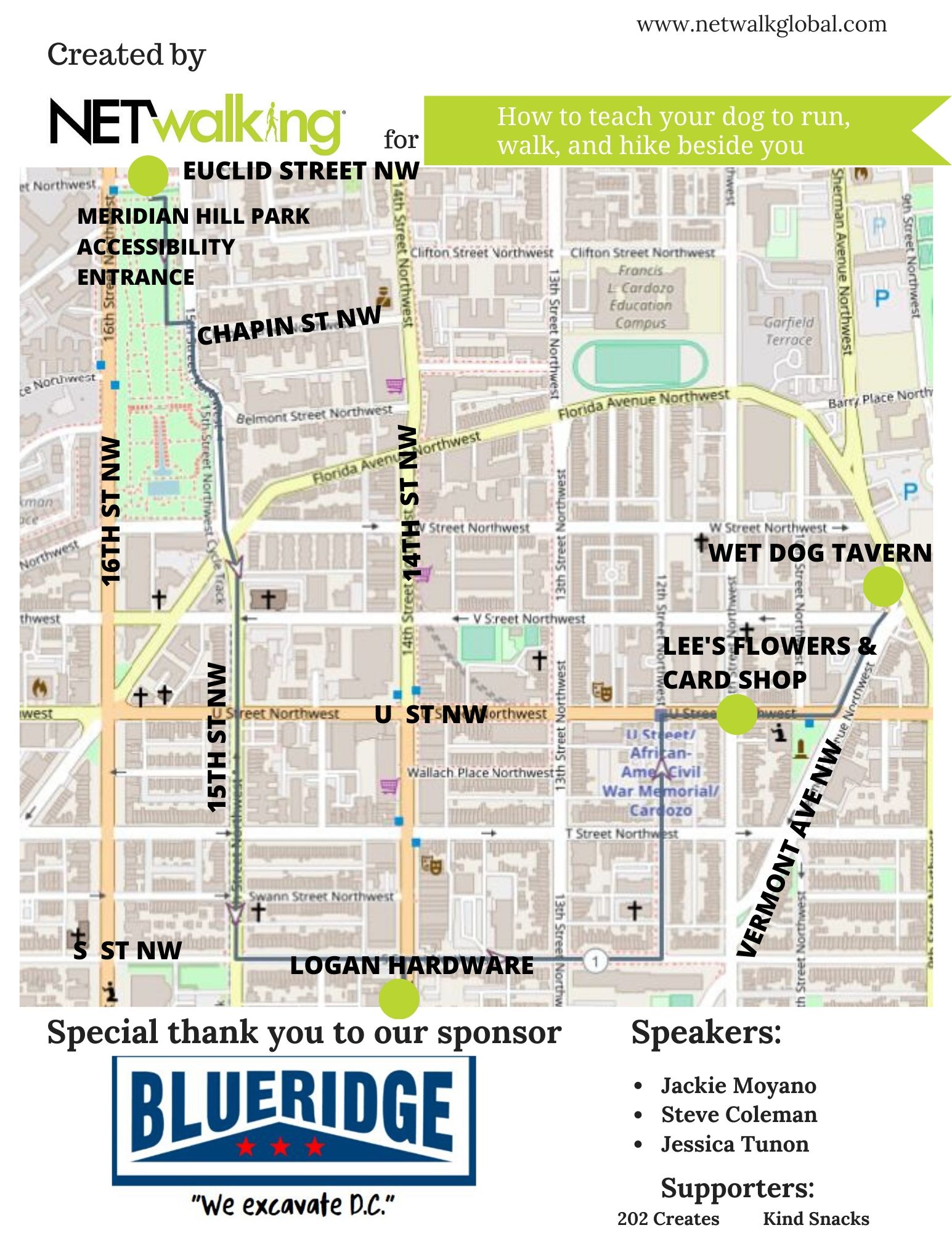 Limited Capacity
15 Engaged Netwalkers
6 Dogs. They must walk well on a leash and be friendly with people as well as dogs.
For further information on sponsorship tiers and packages and to collaborate on Netwalk Events, please email Jess at jessica@netwalkglobal.com. There are limited partnerships available, so don't delay!
Learn more, netwalkglobal.com.
Please note, by signing up for the Netwalk you are consenting that you are fit enough to take part. We encourage you to wear comfortable shoes and have fun.
*Water and a protein snack are provided. We will forgo the Netwalk if the weather doesn't cooperate and keep the conversation going at a local community-based business. Netwalks are created for all fitness levels and ADA accessible for a more welcoming environment.
Sponsored By


Supporter