Description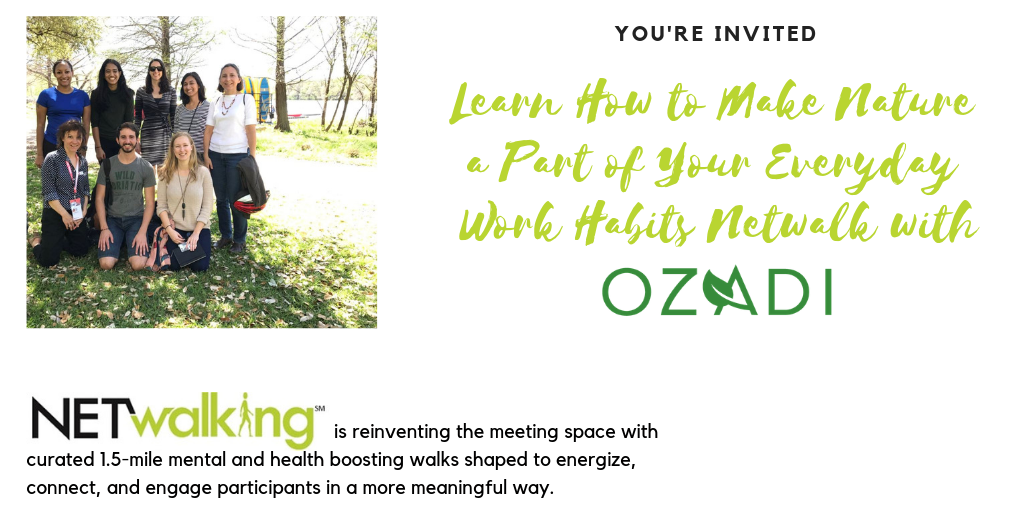 Come as you are after our Remotely Happy: Better Results from Timework Meet Up. We have curated a 1.5-mile Netwalk with founders Rolando Balli and Philip Vanhoutte. Rolando and Philip created Ozadi as a cultural movement to improve the happiness and health of us all through the adoption of nature as an integrated component of our work life.
We will have multiple breaks around downtown Austin including Lady Bird Lake and facilitated networking.
The Netwalk includes a specific Americans with Disabilities Act (ADA) route ensuring inclusivity for all fitness levels.
You will also get a chance to discover the community by foot, meet like-minded people and get an opportunity to include another healthy habit of incorporating more walking in nature to your life.
Key takeaways -
Ninety-five percent of our day is spent indoors. This habit traps us into being less productive and less happy.

Research shows your productivity can increase by 50% by involving nature into your workday.




Event Schedule
We will start at 12:30 pm CST and walk approximately 1-2 miles with multiple breaks around downtown Austin including Lady Bird Lake. The walking tour will begin inside the hotel lobby of the Westin Downtown.

Description:
Netwalking® is a women-owned social impact business located in the District of Columbia focused on increasing access to healthy lifestyles for people and companies around the globe. Our unique approach provides clients with techniques, tools, and tips helping cultivate a welcoming environment to experience distinctive urban spaces. We offer a combination of wellness practices and facilitated conversations to improve trust, community building, and effectiveness. We give participants the tools they need to practice self-care, improve well-being AND provide a safe space for reflection and conversations about how to implement those practices. Learn more, netwalkglobal.com
Ozadi's goal is to improve the health and productivity of individuals, teams, and organizations through advocacy, education, and guidance. We help you use nature as a transformative tool for a more successful work life. Learn more, https://www.ozadi.net/.
* Limited to 30 Netwalkers. No badge required and netwalk-ups welcome without RSVP.