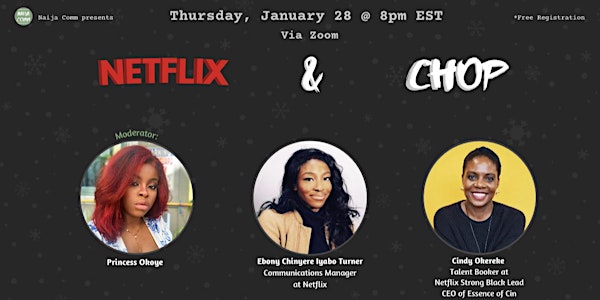 Netflix & Chop
Netflix & Chop [ Free Virtual Event]
About this event
Netflix & Chop is a virtual event for aspiring and current professionals to learn and connect. The panel consists of two Nigerians who work with Netflix. They will discuss relevant topics in our community, work/personal experiences, valuable tips regarding life & how to succeed in your career, and more!
*After registration, you will receive the Zoom link on the event day.
Moderator: Princess Okoye
Guest speakers:
Cindy Okereke is the Founder and CEO of Essence of Cin, a podcast marketing agency. She is a talent booker for the podcast at Netflix Strong Black Lead and the producer for Therapy for Black Girls podcast. She has led content initiatives for Netflix, Andreessen Horowitz, and Wonder Media Network.
Cindy was part of the founding team of Impact Theory where she developed strategies for all digital platforms behind the Tom Bilyeu and Impact Theory brands. Cindy has a B.A. in Creative Writing with a minor in Linguistics from Emory University. In her free time, Cindy enjoys going to museums, reading, consuming all forms of media, doing yoga, and painting. She's originally from Fair Lawn, NJ, and has called Los Angeles home since 2015.
Ebony Chinyere Iyabo Turner is a creative leader, enthusiastic brainstormer, and communications partner – passionate about finding thoughtful and inventive ways to tell stories about the impact her favorite brands have on the world. She is currently a Product and Technology Communications Manager at Netflix, where she helps tell engaging stories about Netflix's pioneering streaming product which is the home for hit titles like Queen's Gambit, Tiger King, and many more. Ebony's career has taken her from staffing interviews in NFL locker rooms to leading communications strategies for a number of product launches for beloved brands, like Lyft and Twitter, and Fortune 500 companies.
Her wide range of interests and passions are deeply reflected in her career journey: She's supported a storied NFL franchise in a major media market, the top CPG companies in the world (P&G and Unilever), a pre-IPO start-up, as well as beloved consumer entertainment and tech brands. She's also good for rap puns and occasional pop-culture references. Her work is grounded in curiosity for the story she always wanted to read as a consumer or write in her past life as an editorial intern. Ebony hold's a B.A. in Communications and Political Science from the Pennsylvania State University.