Description
You're invited to join us for the 2019 NetBase On Tour Breakfast Seminar Series!
Connect with your peers and learn from industry thought leaders on how to fully leverage social insights to drive real business impact. Join us for a morning of social strategy, best practices and delicious breakfast on Wednesday, January 23 from 9:30am-12:00pm at the Four Seasons Hotel in Seattle.


AGENDA:
Social Analytics Driven Marketing Strategies Your CMO will Love
Highlighting social analytics best practices, the power of real time insights into all your customer conversations, all powered by next generation artificial intelligence.
Paige Leidig, Chief Marketing Officer, NetBase


7 Ways to Use Social Analytics to Maximize Brand Impact: Best Practices to Unlock Value Across Your Business in 2019
Social media analytics are constantly evolving. What initially served as a way to measure popularity—counting likes and retweets—is now an indispensable tool that serves every aspect of your business. The insights unlocked by social media analytics tools inform everything from marketing to customer service to product innovation and more. So how do you put them to work for your brand?
Mike Baglietto, Global Head of Product Marketing, NetBase


Audience Round Table
Ask the experts and get answers to your social listening questions and more.

WHY ATTEND?
Bring new ideas and fresh strategies back to your team to enhance your 2019 marketing programs. This informal meet and greet is a great opportunity for our clients and guests to connect with the NetBase executive team and each other to share best practices, use cases, and more.
Get the skinny on how Artificial Intelligence (AI) can drive fast and accurate social media analytics

Learn about cutting edge technology and how brands are staying on top with CX analytics

Understand how social measurement strategies deliver more effective marketing programs and higher ROI

Learn practical social strategies from thought leaders you can implement today

Hear problem solving strategies that unlock new insights for your brand or category

Network with the best and brightest in the social listening space

Opportunity for 1:1 face time with industry experts and members of the senior leadership team at NetBase

Further your career and personal brand from analyst to strategist

development

Delicious breakfast!

SEE WHY CUSTOMERS LOVE NETBASE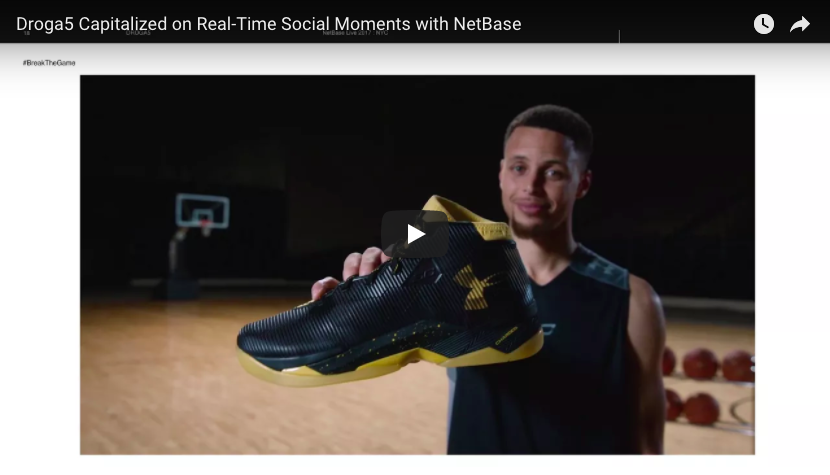 DROGA5 CAPITALIZED ON REAL-TIME SOCIAL MOMENTS WITH NETBASE
NetBase is a global leader in social analytics ranked #1 by industry analyst firms and peer review sites including Forrester, G2crowd, TrustRadius and more. Check out the latest Forrester Wave Social Listening Q3'2018 Report where NetBase is ranked a Leader in Enterprise Social Listening here.
NetBase is the trusted analytics platform for top brands and agencies such as Visa, GoDaddy, Louis Vuitton, L'Oréal, Taco Bell, Coca-Cola, Edelman, Publicis, Kantar, Ogilvy and many more.