Description
You're invited to join NetBase on the next leg of our seminar tour in New York!
We will be hosting a complimentary seminar on Tuesday, April 2 from 9:30am-4:00pm at the Sheraton New York Times Square discussing how social insights can directly impact real business decisions. Breakfast will be served starting at 8:30, so please allow some extra time to arrive and check-in before we get started!
Unlike most of our other NetBase On Tour events, this will be a full-day seminar, packed with sessions from a wide range of brands, agencies and industry experts speaking on a broad set of social analytics applications and real-world case studies. Attendance is free, please just make sure to register at the Tickets button on the top of this page.
AGENDA:
---------------------
NETBASE ON TOUR SEMINAR:
Free and Open to all! Please register if you plan to attend.
Tuesday, April 2
9:30am - 3:45pm

8:30 - 9:30am // Check-in and Breakfast
Keynote:
Bob Ciccone, COO & EVP, Products & Technology, NetBase
Welcome Address: The Future of NetBase and the Social Media Analytics Market

Client Session
"PROCESS BE DAMNED: How Social Listening Turned a 'Nice' Idea into Increased Business"
Agencies have process, and to many, that process should not be disrupted. But with the changing digital landscape, and the right content needing to be delivered more efficiently, can social media, a reactive and proactive channel, push to the front of internal communication and spearhead efforts? Why yes, it can, and here's how it was able to shift a clients' thinking about the channel, and marketing efforts in general.

NetBase Session
"Getting the Most Insights from 51 Months of History"
Delving into more social data than ever before is just what NetBase has in store for you! NetBase's new extended history delivers 51months of data across every social source, enabling you to understand how trends have changed over time to inspire new product ideas, launch new campaigns, develop new pitches and more.
Robyn Lindars, Director, Social Insights, NetBase
Mike Baglietto, Director, Product Marketing, NetBase
Client Session
"Using Social Media Data to Drive Operational Change. How Hidden Insights on Social Media can Impact Your Operations."

Lunch

Client Session
Shannon Truax, Global Vice President, Brand Social, GoDaddy
"Sitting out this Super Bowl"
Participating in The Big Game will run you $5-5.3MM for a single 30-second spot. For that amount of money, what might you get in digital? For starters—1.7 billion impressions on either Instagram or Facebook, 100 Twitch campaigns, or 20 Instagram posts from Kendall Jenner. What's the bigger payoff? This year, GoDaddy sat out this Super Bowl, and instead tapped into a global dialogue to reach today's highly fragmented audience. In this session, we'll discuss Make the World You Want, looking at key ways to engage, who to align, and how to build an authentic and layered content set to make lasting impact.

Client Session
Ted Tagalakis, Vice President, Social Media, Intermark Group
"Avoid the Fyre: The psychology behind a successful influencer campaign"
In an every growing digital world its important to understand the psychology that can not only lead to identifying the right influencers but also drive consumer engagements. We'll dive into the psychological principles that are fundamental in the decision making process and how to use them to your advantage in selecting influencers and putting together successful campaigns.

Client Session
Razi Imam, Founder, CEO, 113 Industries
"Anatomy of a True Insight?"
Do you know the real reason why consumers do not naturally think of Tuna when they are on a high protein diet? Or why college grads really join Facebook and Google? Or what drives consumers to have fanatic brand loyalty beyond the obvious reasons? These are some of the answer you will get to hear from 113 Industries.
Consumer Behavior Modeling is a proprietary process developed by 113 Industries that uses NetBase, IBM Watson and other AI technologies to help answer the Why behind the What. An insight is not just to know what consumers are doing, it is all about why consumers are doing that behavior. Their work ranges from helping companies introduce products that reach $100M in revenue to helping companies achieve the number one position in their category.

Client Panel
"Developing a Social Saavy Organization"
Aligning your social strategy for today's business practices requires coordination, communication, and the right tools. Our experts share their expertise for developing a mature social practice that fuels strategic initiatives across the entire organization.
Meredith Kinsman, Vice President, Digital Strategy, Octagon
Hillary Saviello, Digital and Social Media Manager, The Rockefeller Foundation
Kerri Krom, Research and Insights Director, Stella Rising
Closing Remarks
**Please check back for additional updates to our agenda**
---------------------
HAPPY HOUR RECEPTION: Free and Open to all
Tuesday, April 2
3:45 - 4:30pm

---------------------
Additionally, we will be introducing a complimentary User Group Meeting (open to existing NetBase clients only) following the seminar on April 2, as well as a half-day exclusive NetBase Product Training (also open to existing NetBase clients only) on the morning of April 3. Seating for this training is extremely limited, and offered on a first-come, first-served basis. For additional details on the agenda, and to register for this special Product Training, check out our separate page here.
---------------------
USER GROUP: NetBase Clients Only - Complimentary
Tuesday, April 2
4:30 - 6:00pm

Following the seminar, you are invited to participate in an exclusive client-only NetBase User Group meeting where you'll be able to meet with NetBase experts, share best practices and methodologies, learn more about the new and upcoming capabilities, and network with other users.
---------------------
NETBASE PRODUCT TRAINING: NetBase Clients Only / Separate RSVP Required
Wednesday, April 3
8:00am - 12:00pm
We'll be offering a half-day hands-on training to NetBase users. This is a fantastic opportunity to bring new NetBase users up to speed quickly or hone your skills. For more information and to see the schedule for this special training, please visit our separate registration page here.
The cost for the training is only $199 and is limited to 15 seats. Please contact Lorraine at lrodvold@netbase.com or your NetBase Account Manager if you need any help determining if this training class is right for you.
---------------------
WHY ATTEND?
Bring new ideas and fresh strategies back to your team to enhance your 2019 marketing programs. This informal meet and greet is a great opportunity for our clients and guests to connect with the NetBase executive team and each other to share best practices, use cases, and more.
Get the skinny on how Artificial Intelligence (AI) can drive fast and accurate social media analytics
Learn about cutting edge technology and how brands are staying on top with CX analytics
Understand how social measurement strategies deliver more effective marketing programs and higher ROI
Learn practical social strategies from thought leaders you can implement today
Hear problem solving strategies that unlock new insights for your brand or category
Network with the best and brightest in the social listening space
Opportunity for 1:1 face time with industry experts and members of the senior leadership team at NetBase
Further your career and personal brand from analyst to strategist development
Delicious breakfast!

SEE WHY CUSTOMERS LOVE NETBASE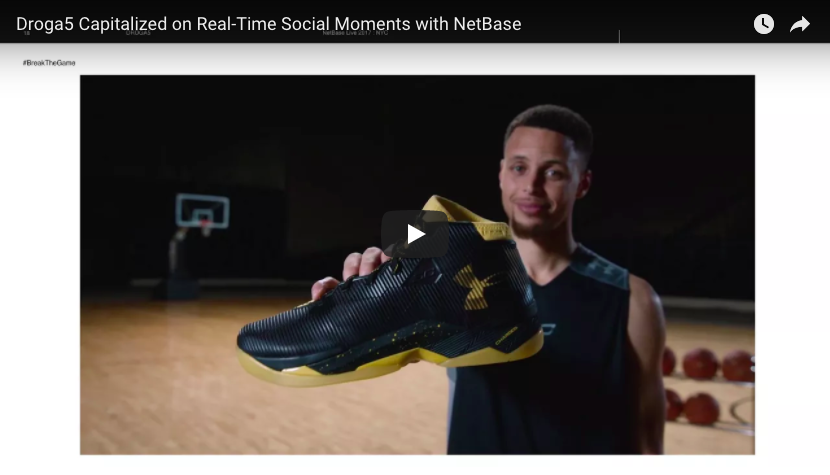 DROGA5 CAPITALIZED ON REAL-TIME SOCIAL MOMENTS WITH NETBASE
NetBase is a global leader in social analytics ranked #1 by industry analyst firms and peer review sites including Forrester, G2crowd, TrustRadius and more. Check out the latest Forrester Wave Social Listening Q3'2018 Report where NetBase is ranked a Leader in Enterprise Social Listening here.
NetBase is the trusted analytics platform for top brands and agencies such as Visa, GoDaddy, Louis Vuitton, L'Oréal, Taco Bell, Coca-Cola, Edelman, Publicis, Kantar, Ogilvy and many more.