Description
JOIN US AT NETBASE LIVE 2017 LOS ANGELES!
Join NetBase for two days packed with social media insights and learn from thought leaders, industry experts, and your peers. You will walk away with new knowledge, best practices and connections that will transform your career. Expand your social skills by attending the NetBase All-Star Academy training - now with Introductory and Master Class sessions. Be among the first to hear about new product features and the 2018 roadmap.
Please visit the NetBase LIVE 2017 Los Angeles website for full details and agenda. You may also want to check out NetBase LIVE 2017 New York, being held October 17-18.


HIGHLIGHTS OF NETBASE LIVE 2016
Need more? Check out highlights of NetBase LIVE 2016 in San Francisco.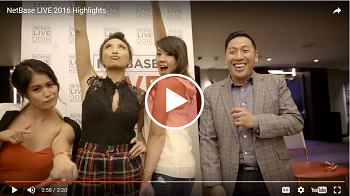 In 2016, we were happy to host dozens of speakers from brands like Taco Bell, Britvic, Deloitte, VISA and Coca-Cola, and agencies including Edelman, FleishmanHillard and Ogilvy, as well as industry analysts and social analytics gurus.
SANTA MONICA ACCOMMODATIONS
Here are some accommodation suggestions for the area, from budget-conscious to luxurious...
Marriott Le Merigot: Stay onsite where NetBase LIVE 2017 Los Angeles is taking place. "Upscale selection with high-end French dining, plus an outdoor pool, a fitness center & a posh spa."
Hotel Carmel: Mid-priced hotel .4 miles walk from the venue."Unfussy rooms & suites in a 1924 building with free coffee, an on-site cafe & 2 hip cocktail bars".
Casa Del Mar and Shutters on the Beach: Sister properties for the truly discerning traveller. A .2 mile walk from the venue. "Upscale oceanfront hotel with a laid-back vibe."
The Hotel California: Budget-friendly hotel one block from the venue. "Hacienda-style property offering rooms & suites with surfing-themed decor, plus free breakfast."
ABOUT NETBASE
NetBase is a global leader in social analytics, ranked #1 by industry analyst firms and peer review sites including Forrester, G2crowd, TrustRadius and more. NetBase is the trusted analytics platform for top brands and agencies such as VISA, United Airlines, YUM! Brands, Edelman, Publicis, McCann, Ogilvy and many more. www.netbase.com