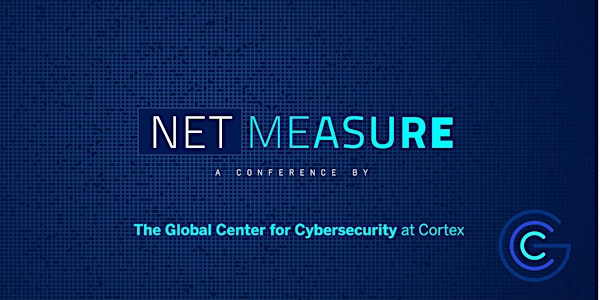 Net Measure Conference 2021
Net Measure 2021 - A leadership conference focused on addressing challenges in cultivating diverse talent & combatting cybercrime.
About this event
On the heels of an historic global pandemic that fueled a rapid digital transformation, revealed deep inequities in talent within the cybersecurity industry and has already resulted in a 600% increase in cybercrime, The Global Center for Cybersecurity (GCC) hosts its' inaugural conference – Net Measure
What Can You Expect from this Event?
Join a host of security industry luminaries including Masha Sedova (Co-founder and President of Elevate Security), Lamont Orange (CISO, Netskope), Gen. Jim Clapper (former US Director of National Intelligence), Steve Hill (Deputy Director in the UK National Security Secretariat of the Cabinet Office), and many more, as they contextualize the following:
The Purpose of the GCC
The GCC is founded on the realization that true cybersecurity relies on an ecosystem of matrixed organizations and the understanding that each organization is incentivized to only manage within its own boundaries. Between those boundaries, natural gaps exist in a variety of forms – disparities in knowledge, talent, standards, sector practices, infrastructure and scale. Each poses a common threat to the whole community.
The GCC seeks to holistically address and reverse these threats.
Globe as Enterprise
During this two-hour event, you'll be asked to consider what can we accomplish if we remove the boundaries and barriers that exist between individuals, organizations and countries – to view the world as one enterprise – with the goal of solving far-reaching challenges in cybersecurity together.
Why Now?
Cybersecurity is people security. As one of the fastest growing industries of our time and one of the largest potential threats to our global society, we are in the eye of the storm. How we act upon the challenges and opportunities we see today will shape the future of what the industry looks like and how it operates for generations to come.
Measuring Success
With a vision of "A World More Equal and Secure" the GCC will leverage the annual Net Measure event to provide data and insights that address issues relevant to CISOs and their teams, regardless of organization size or location. This year's event will focus on challenges in cultivating diverse talent and combating cybercrime.
Learn More about the Global Center for Cybersecurity @ Cortex : https://www.globalcenterforcyber.org/
Net Measure 2021, hosted on ADM Productions' V360 virtual platform. Learn more about ADM Productions: https://www.admproductions.com/