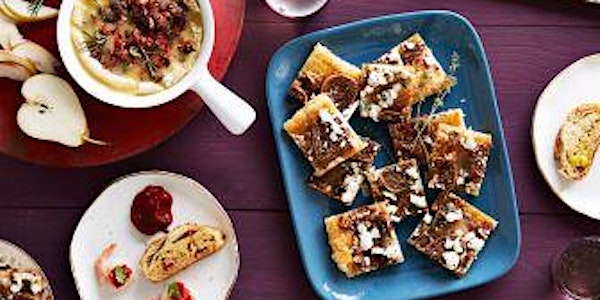 Nestle Inn Cooking Class: Appetizers
Learn how to make simple appetizers and small plates that will look impressive to your guests.
When and where
Location
Nestle Inn 637 East Street Indianapolis, IN 46202
About this event
Both vegetarian and meat eater appetizers will be covered. Join us in the Nestle Inn kitchen and then go out and play on Mass Ave.
FAQs
Is this cooking class safe to attend due to Covid-19?
You can be assured that our cooking classes are a safe event that you can feel good about attending. Class size is limited to 10 people. We have individual work tables so that you can cook with the person you attend with or at your own station if you are on your own. Masks are suggested and we provide food safety gloves . The chef is the only person moving about in the class as he/she demos items to you. You are active in preparing certain items at your stations and will only have contact with food that you have prepared, or the chef has prepared , who is always food safety qualified. We welcome your questions at any time if you have concerns about how we are working to keep you safe.
How do I redeem a gift certificate for my cooking class?
Select the tickets button. Select one ticket and select "Enter Promotional Code".  Enter the code from your gift certificate. If you are using a gift certificate for more than one attendee, you will need to repeat this process with the second code to register.  Please remember to bring your gift certificate to class with you.  If your gift certificate doesn't have two codes, please call us and we will assist you. 317-610-5200.
What is on the menu for the Cooking Class? What if I have a dietary restriction?
The topics of the cooking classes are created to give you an overall idea of what will presented for instruction.  Our professional chefs prepare our classes with a "Farm to Table' method so we don't always know exactly which dishes will be offered at each class.  If you have a dietary restriction or preference, please let us know by e-mail at info@nestleindy.com or call us at 317-610-5200 and we will be happy to accommodate you.  We are always happy to accommodate any requests.  This info will then give our chefs input as they purchase and choose their dishes and ingredients.
Classes are for over 21 as some classes have wine or beer served at them.  Please check with us if you wish to bring someone under 21 to a class.
What are my transport/parking options getting to the event?
We are located at East and Walnut streets.  Parking is on the street surrounding the Inn or you can park in a lot 1 block away with a parking pass that we will send you in advance.  We also have parking passes at the Inn for you to pick up the day of your class when you arrive. The lot next to us is not our parking lot and parking there will put your car at risk for being towed. We do have a loading and unloading zone in front of the Inn if you would like someone to drop you off and pick you up.
 Where can I contact the organizer with any questions?
 If you have any questions, please call 317-610-5200 and we will be happy to assist you.
Is my registration/ticket transferrable/What if I can't attend?
We are sorry but tickets are nonrefundable. If you can't attend your class, you can give it to a friend, family member or co worker.  We are sorry but we are unable to extend a credit for not attending the class.  Also, please remember that gift certificate registrations are considered the same as cash so if you can't attend on the date you registered for with your gift certificate, you can transfer that ticket to a friend, family member or co worker. We are sorry but we are unable to give a credit for a registered gift certificate class.