Description
NCMA's Free State Chapter invites you to join us for another informative NES on Key Contract Terms and Conditions. In this full-day seminar, speaker Jim Kirlin focuses on the most negotiated contract terms and conditions in the U.S. federal government contracting environment. "Most negotiated" refers to the amount of upfront time and effort typically required to reach agreement. The guide also discusses the negotiation of terms and conditions from three practical, day-to-day perspectives: the U.S. federal government buyer, the prime contractor (as seller and buyer), and the subcontractor.
The Desktop Guide is based primarily on the Federal Acquisition Regulation (FAR), which provides the uniform policies and procedures for acquisition by all executive agencies. The FAR is thousands of pages and quite complex, so the Desktop Guide identifies and summarizes the essential terms and conditions to be mastered by government and industry contract management professionals. This format allows for a quick grasp of the most important policies and clauses.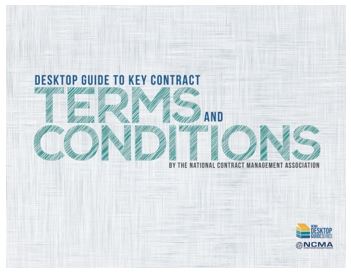 Every attendee will receive a copy of the Desktop Guide to Key Contract Terms and Conditions.
Check-in is from 7:45-8:30; Breakfast, lunch, and snacks will be provided.
We hope to see you there!