Description
Join us for an exciting seminar on Contract Types presented by the NCMA Free State Chapter.
NCMA's newest course goes beyond consideration of the differences among the various types of contracts. Speaker Kenneth Rice of Strategic Health Solutions will give an accelerated, comprehensive one-day course on the practical, legal, accounting, and management implications in the use of various contract types.This course is designed for both new and experienced contract professionals. For new professionals, it explains the different contract types and their uses. For experienced professionals, it is a refresher and an update examining the various contract types and some of the new, innovative types of contracts in use. It includes an analysis of the risks inherent in different kinds of contracting and the role of risk management in both fixed‐price and cost‐reimbursement contracting. Its end objective is to provide both new and experienced employees with a greater understanding of what should be done to better administer and manage their own contracts.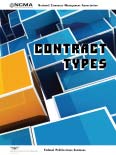 Every attendee will receive a copy of Contract Types and its accompanying workbook.
Check-in is from 7:45-8:30; Breakfast, lunch, and snacks will be provided.
We hope to see you there!