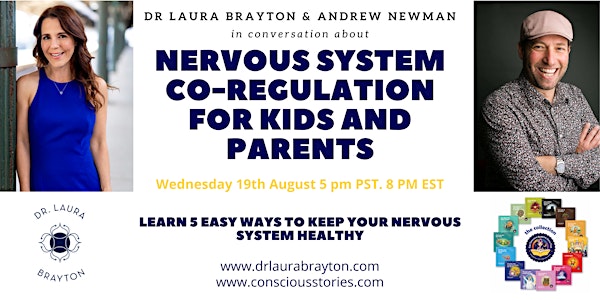 Nervous System Co-Regulation for Kids and Parents
WHY THINGS GET HARD WHEN YOUR KIDS NERVOUS SYSTEM GETS OUT OF ALIGNMENT AND WHAT YOU CAN DO TO RESTORE THEIR EASE, FLOW, AND BALANCE.
Refund Policy
Contact the organizer to request a refund.
Eventbrite's fee is nonrefundable.
About this event
DID YOU KNOW: You share your nervous system with the people around you. This can lead to co-regulation or co-anxiety! Who is the calm one in your circle?
Join this conversation about nervous system regulation and learn practical tips to give your kids the best chance at a calm inner state of relaxation where they can thrive.
The brain-body connection is essential to our wellbeing. Sometimes this goes out of alignment and we become dis-regulated. Then we feel uncomfortable in our own skin!
We will learn :
What does a healthy aligned nervous system look like in your child?
What are the cues that alignment may be out? How do they show up physically, emotionally or psychologically?
Why do we go out of alignment?
What we can do to stay in healthy alignment longer?
TAKE-HOME: 5 EASY STEPS TO KEEP YOUR NERVOUS SYSTEM HEALTHY
YOUR HOSTS
Dr. Laura Brayton, maternity/pediatric holistic chiropractor, and mama to her two-year-old, Finley. Laura is passionate about empowering women at all stages of their motherhood journey through conscious, educated health decisions for themselves and their families.
Andrew Newman healer, therapist and author of Conscious Stories.com, dedicated to helping parents make a deeper connection with their kids especially in the last 20 minutes of the day.
WHO THIS IS FOR:
Parents of young children wanting to create calm hearts and homes.
Preconception, Pregnant or Postpartum women excited to learn how to have a calm baby.
Early-Childhood development educators committed to calm classrooms.
Holistic health care providers who work with children and families.
Wednesday, August 19th
5 pm PST / 8 PM EST
90 Minutes
This event is recorded. Recordings will be emailed to all registered attendees after the event.
HOST BIOGRAPHIES:
Dr. Laura Brayton is a holistic chiropractor, author, and speaker, passionate about supporting the health and wellness of families. Dr. Brayton writes regularly on health-related topics and is a lecturer for various holistic groups, including at yoga studios, childbirth education centers, and new moms' groups. She also continues to stay up-to-date and current in her field with frequent post-graduate seminars in functional medicine, nutrition, allergy elimination, pediatrics, and maternity.
In addition, Dr. Brayton has received certifications in Chiropractic Pediatrics, Webster Technique for breech presentation, Sacro-Occipital Technique (S.O.T.), Craniopathy and is an advanced level practitioner of Nambudripad's Allergy Elimination Technique (NAET). Dr. Brayton is a BioEnergetic Practitioner utilizing Applied Kinesiology (manual muscle testing) to "eavesdrop" into the body and determine its current needs for health. She is the owner and founder of Hoboken Family Chiropractic + Wellness, located in Hoboken, NJ since 2005. She is also the host of the podcast, "Well-Adjusted Mama," which seeks to empower and educate women from preconception through early motherhood on holistic lifestyle. In September 2017, she gave birth to her son, Finley, in the most amazing experience of her life.
For more information, please check out her website at www.drlaurabrayton.com.
Andrew Newman is the award-winning author and founder of www.ConsciousStories.com, a growing series of bedtime stories purpose-built to support parent-child connection in the last 20 minutes of the day. His professional background includes deep training in therapeutic healing work and mindfulness. He brings a calm yet playful energy to speaking events and workshops, inviting and encouraging the creativity of his audiences, children K-5, parents, and teachers alike.
Andrew is a featured expert on Mindvalleys' Little Humans parenting channel, been an opening speaker for Deepak Chopra, a Tedx presenter in Findhorn, Scotland, keynote speaker at Dr. Becky Bailey's Conscious Discipline Conference and author-in-residence at the Bixby School in Boulder, Colorado. He is a graduate of The Barbara Brennan School of Healing, a Non-Dual Kabbalistic healer and has been actively involved in men's work through the Mankind Project since 2006. He counsels parents, helping them to return to their center, so they can be more deeply present with their kids.