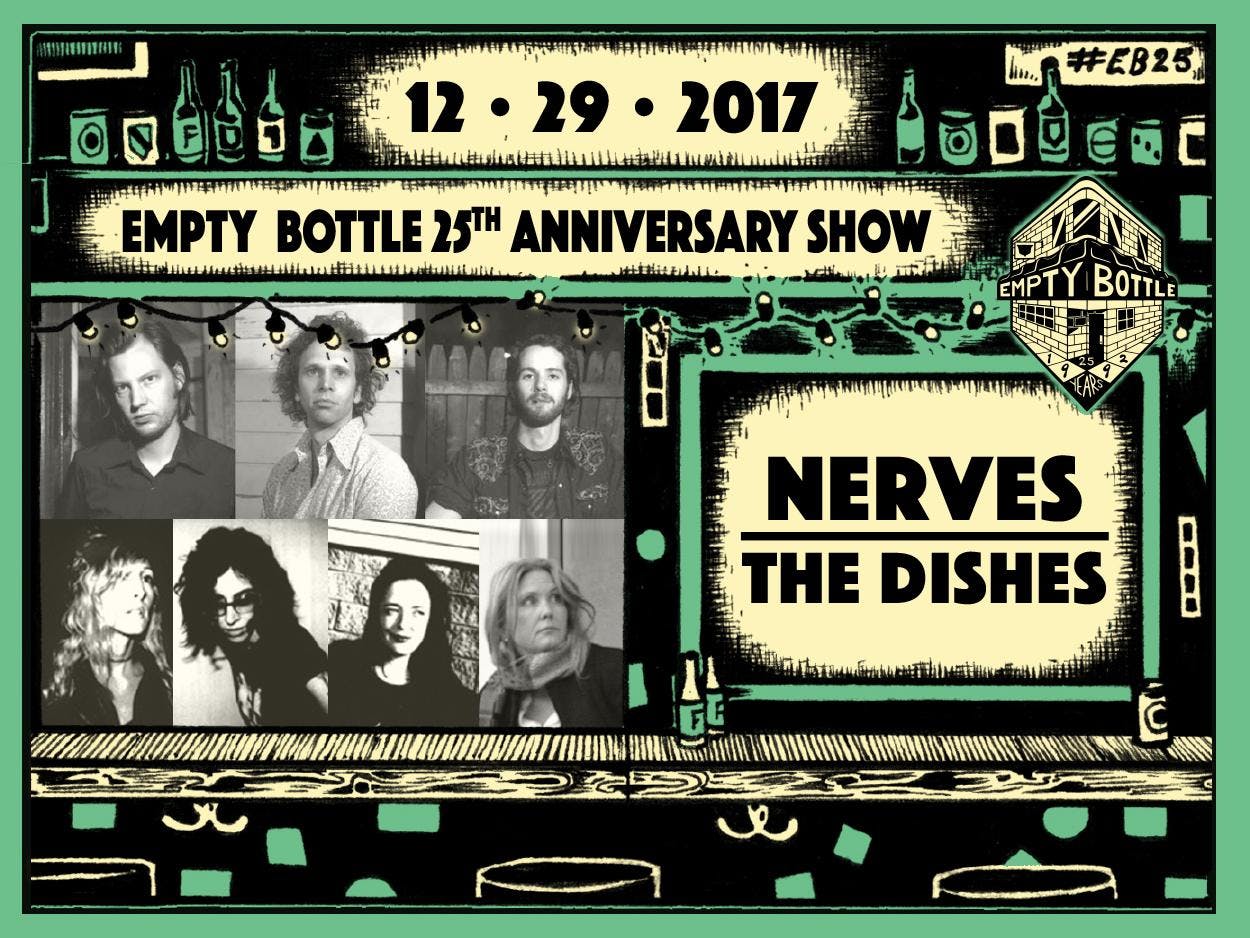 About this Event
Chicago's NERVES are Elliot Dicks (drums), Seth Skudrick (bass, backing vocals), and Rob Datum (guitar, vocals). They started playing together early in 1997, and they have been burning it up ever since. The music is pure Rock and Roll. They play short, frenetic sets that leave both band and audience gasping for air. Datum's guitar style conjurs up images of early Wipers as he holds the guitar vertically shifting his hands from cord to note and back faster than it takes the sweat to fly off of Dicks' brow. Rock and Roll is certainly not new but the lean sound and intensity of the NERVES make them impossible to ignore.
THE DISHES, as would many bands after them, formed at the Empty Bottle in 1994, where guitarist Kiki Yablon was the first publicist and frontwoman Sarah Staskauskas was one of the earliest bartenders. The lineup and sound jelled with the addition of bassist Sharon Maloy around 1999, and that core trio persisted, through a tragicomic parade of drummers, until 2003. For this reunion, the throne will be occupied by the mighty Janet Beveridge Bean (Eleventh Dream Day, Freakwater, etc.), a longtime friend of the band who probably should have just been in it from the start. THE DISHES had a reputation for being unusually concise even by punk rock standards: "to hell with a third verse, gimme gimme gimme another chorus and we're done," wrote one admirer of their first album. Their three full-length albums, The Dishes (2000), 1-2 (2002), 3 (2003) were truly "compact" discs, each barrelling through 13 catchy and sometimes weird garagey-punk tunes in barely half an hour. That furious pace is what you could expect from their live show as well, along with Staskauskas's trademark foulmouthed banter (example: "We don't know any ZZ Top, but we got a lot of beard up here if you know what I mean"). After THE DISHES dissolved, Sarah went on to play in Camaro Rouge, then moved to LA. Kiki played in the Red Eyed Legends, and Sharon currently plays in Stomatopod with the Nerves' Elliot Dicks. 
Academy award nominee and musician MICHAEL SHANNON graces our stage for the first time, but is no stranger to playing in Chicago, having previously graced local stages with an incredibly solid roster of musical friends including the likes of JASON NARDUCY (SPLIT SINGLE). Debuting with us for none other than our #EB25 series right before the end of year, MICHAEL SHANNON & FRIENDS promise "an electrifying musical experience" and will surely "tear it up."
DJ Jill Hopkins of Vocalo spinnin' the hits to get everyone primed and grimed before the show starts.