Description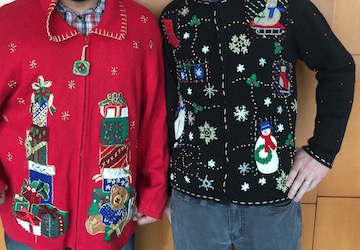 Dig that garish holiday sweater out of your closet and celebrate the season – or seek refuge from it – with Tricia Bobeda and Greta Johnsen of Nerdette.
Part of WBEZ's Podcast Passport: Film mini-series, the evening will include a conversation with Chicago filmmakers Joe and Kris Swanberg, holiday themed cocktails, scenes from A Klingon Christmas Carol and numbers from Chicago Tap Theatre's Tidings of Tap. As if that wasn't enough? Audience members who wear holiday sweaters may be invited to strut their stuff onstage at the historic Victory Gardens Biograph Theater – and maybe win a prize. Holiday Sweater Contest brought to you by Peter Sagal from Wait, Wait, Don't Tell Me! Yes, he'll be there too!
More information on A Klingon Christmas Carol
Scrooge has no honor, nor any courage. Can three ghosts help him to become the true warrior he ought to be in time to save Tiny Tim from a horrible fate? Performed in the Original Klingon with English Supertitles, and narrative analysis from The Vulcan Institute of Cultural Anthropology.
The Dickens classic tale of ghosts and redemption adapted to reflect the Warrior Code of Honor and then translated into tlhIngan Hol (That's the Klingon Language). This production of "A Klingon Christmas Carol" marks the fifth year of out-of-this-world holiday mayhem in Chicago.
More information on Chicago Tap Theatre's Tidings of Tap
Chicago Tap Theatre present Tidings of Tap!, a warm and wondrous journey through Christmas, Chanukah, & the Winter Season…with the best of tap dance and all live music. Featuring rhythm and whimsy-filled interpretations of your favorite Christmas, Chanukah and Winter songs, this is a fun yet sophisticated, family-friendly evening that you'll be talking about all year!