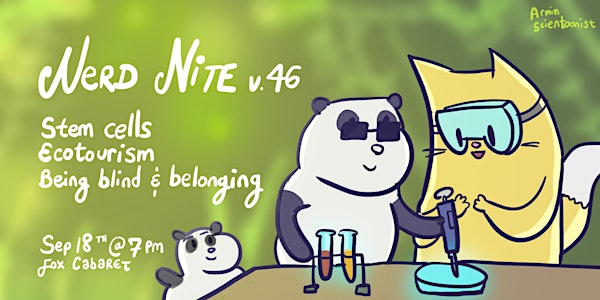 Nerd Nite v46: Stem Cells, Ecotourism, and Being Blind and Belonging
When and where
Location
Fox Cabaret 2321 Main Street Vancouver, BC V5T Canada
Refund Policy
Refunds up to 1 day before event
Description
Back to school nerds! We can't wait to hear what you have all been up to this summer, we hope that you've joined us for our summer movie vacation at VIFF. Kaylee and Michael went to Banff for the Science Communication program and are amped up to get back to what we love doing: drinking and learning. Message us or tweet at us @nerdniteyvr and tell us what nerdy things you've been up to this summer, we'll talk about them on the 18th!
Hosted by: Kaylee Byers and Michael Unger
DJ: Courtenay Webber
Poster: Armin Mortazavi
IG: @armin.scientoonist
1. Josh Silberg - "Should I swim with that whale shark?"
From Mexico to Australia to Southeast Asia, whale shark tourism has exploded around the world in the last decade. Tourists are generally brought to swim with the world's largest fish at places where they aggregate in large numbers. Unfortunately, wild animals don't always get the memo, so sometimes people can go home without seeing a shark. In the central Philippines, one town has figured out how to pretty much guarantee you see whale sharks—they feed them. Feeding wildlife for ecotourism purposes is controversial, and even shark conservationists differ in opinions. How can we ensure whale shark tourism is sustainable for both the sharks and the people who rely on tourism for their livelihoods?
Bio: Josh Silberg has researched everything from humpback whales to whale sharks to rockfish—he just couldn't decide on one creature to study. After earning a Master's of Resource and Environmental Management from Simon Fraser University, he joined the British Columbia-based Hakai Institute as the Science Communications Coordinator. Now, he gets to share all sorts of coastal science stories through blogs, videos, graphics, and the occasional poem. Josh is also a Vancouver producer with The Story Collider, and hosts four shows per year where people perform true, personal stories about science. In his free time, he can be found photographing wildlife, hiking, or searching for creatures in tide pools. You can follow him on twitter @joshsilberg.
2. Laura Yvonne Bulk - "Being Blind and Belonging"
Diversity vs. Deficit ... too often disability is framed as a deficit rather than being an aspect of diversity that enhances our world. Laura will discuss her work exploring being blind and belonging in academia.
Bio: Laura Yvonne Bulk (@LYBOT) is a friend, learner, woman, teacher, disabled person, occupational therapist, Christian, artist, scholar, advocate, and activist. Her work focuses on enhancing diversity and understanding, and promoting human dignity and flourishing. As a public scholar, Laura aims to benefit the wider community and the academic and clinical communities, making purposeful social contributions and employing innovative forms of collaborative scholarship. She works in the areas of quality of life in palliative care; being blind and belonging in academia; inclusion of disabled people in healthcare professions; and the use of creative methods (including research-based theatre and audio theatre) and cross-sectoral partnerships to do research for the public good.
3. Alison Müller - "Decellularization: Using Nature's Scaffolding to Build Tissue"
Some of the most exciting medical technology is focused around building new, healthy tissue using a patient's cells. The dream goal is to create a 3D organ that can completely replace a damaged or diseased one. There are a few techniques that are being used to make this a reality, and one of the most exciting ways involves utilizing what's naturally already available. It is a three-dimensional structure called the extracellular matrix made up of different proteins that create a scaffold for cells to live in. Without this scaffolding, we would just be a mush of cells, similar to Ditto. Scientists are using this naturally available shape to better understand how this structure determines cell fate and if it is possible to completely rebuild organs using cells and nature's scaffolding.
Bio: Alison Muller is a PhD graduate from the University of Alberta who has recently moved back home to Vancouver. She loves presenting cutting edge medical research and has had panels at numerous Comic Expos discussing science fiction inspired technology. She has been a guest on CBC Radio morning shows in Edmonton and Calgary as well as appearing on Global Edmonton participating in a liquid nitrogen explosion, all to promote her Comic Expo science panels. She recently founded aliscience.ca, a science communication blog that publishes different topics focused around medical science discoveries as well as the tools used in the research field. She's looking forward to starting her biotech career here