Nerd Nite Orlando: Gut Invaders, Capt. Picard, & Beer is Good

Thursday, July 12, 2018 from 6:00 PM to 9:30 PM (EDT)
Event Details
Join us on Thursday, July 12th in downtown Orlando for an evening of thinking and drinking; plus a pop-up art show from Nikkolas Smith: theme park designer, concept artist, and author/illustrator**
https://www.nikkolas.com/


Nerd Nite is an evening of entertaining yet thought-provoking presentations– all while the audience drinks along in a casual atmosphere. Speakers present for 15-20 minutes each on a fascinating subject, often in an uncanny and unconventional way. Following each presentation is a brief Q&A with the audience.

Doors open at 6pm.
Program begins at 7pm.

This is a FREE event. We only accept donations.
Make a contribution here.

Guest speakers include:
Karen Corbin, PhD, RD
Rupert Meghnot
Dr. Anna Lepeley

Hosted by Ricardo Williams

Thank you to our supporting sponsor: Beth Sells Florida Real Estate


We'll also be giving away screenings passes for the movies MISSION: IMPOSSIBLE- FALL OUT (Paramount), THE MEG (Warner Bros.), and SEARCHING (Screen Gems).

-------------

PRESENTATION #1: "Gut Invaders and the Acceleration of Innovation" by Karen Corbin, PhD, RD

We are not alone. We have trillions of invaders that live in and on our bodies. These invaders, particularly the ones in the gut, have a profound impact on human physiology. "Gut Invaders and the Acceleration of Innovation" is a talk about these invaders, which are called the microbiota. You will learn about who these invaders are, how they impact our daily life, and some of the latest geeked out advances in the field. In addition, Dr. Corbin will enlighten you about how the trajectory and structure of discoveries in this field have revealed important lessons about how to accelerate the translation of innovations into solutions.

Karen Davidowitz Corbin, PhD, RD is an expert in human nutrition and metabolism. She is an Investigator at the Translational Research Institute for Metabolism and Diabetes in Orlando, Florida. She designs, implements and reports the results of clinical-translational research studies aimed at finding cures for metabolic diseases. Her current research is focused on the mechanisms that impact the pathophysiology of non-alcoholic fatty liver disease.

PRESENTATION #2: "9 Leadership Traits from Star Trek: The Next Generation" by Rupert Meghnot

Star Trek: The Next Generation is an American science-fiction television series in the Star Trek franchise created by Gene Roddenberry that ran from 1987 to 1994. The series involves a starship named Enterprise and is set in the nearby regions of the Milky Way galaxy, the Alpha Quadrant. Rupert will outline leadership traits exhibited by the ship's captain, Jean-Luc Picard.

Rupert Meghnot started his first business at 20, and is still going strong. Originally a poli sci major, he has an M.B.A. from Rollins, and patents in consumer electronics, motion simulation and virtual reality. He taught at UCF (Amusement Technology) and Full Sail (Game Design Masters), the former students of which are now managing $2+ billion in game IP. Having helped 300+ high-tech startups, he's now incubating game startups via Burnout Game Ventures, LLC.

PRESENTATION #3: "Beer is Good For You" by Dr. Anna Lepeley

Dr. Lepeley teaches people about the health benefits of beer [based on peer-reviewed research]. She seeks to enlighten people and make them feel better about drinking their favorite alcoholic beverage.

Dr. Anna Lepeley has a PhD in Exercise Biochemistry and Nutrition research. She is the author of "Beer is Good for You". As a touring stand-up comedian, Anna likes to entertain her audience while teaching.  

----

**Nikkolas Smith, a native of Houston, Texas, is a Master of Architecture recipient from Hampton University,  current Theme Park Designer & Concept artist at Walt Disney Imagineering, and Children's Books Author/Illustrator. His first picture book "The Golden Girls of Rio" was nominated for an NAACP Image Award. He also creates activist art paintings and Hollywood movie posters (Black Panther, Southside With You, Dear White People, Stranger Fruit). Nikkolas also talks for conferences (TEDxWatts) and schools all over the country, and after hours leads in youth mentoring on Saturdays, with the kids of Compton & Watts, CA, giving lessons in digital painting and life skills for success. He lives in Los Angeles, California.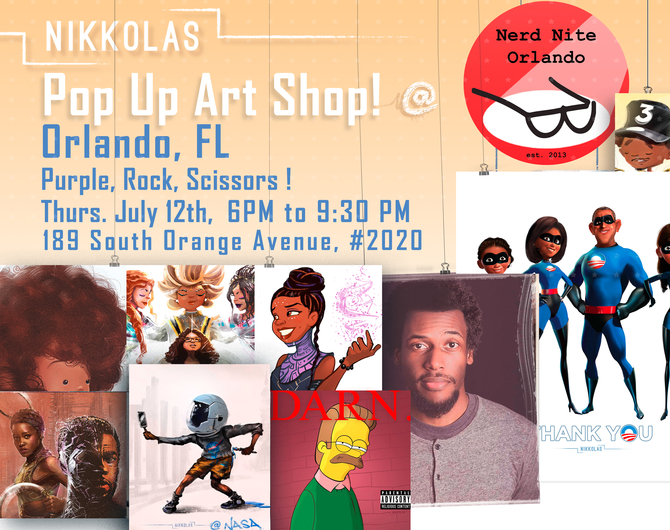 When & Where

Purple, Rock, Scissors
189 South Orange Avenue
#2020
Orlando, FL 32801


Thursday, July 12, 2018 from 6:00 PM to 9:30 PM (EDT)
Add to my calendar
Organizer
Nerd Nite is an evening of entertaining yet thought-provoking presentations– all while the audience drinks along in a casual atmosphere. Speakers present for 15 minutes each on a fascinating subject, often in an uncanny and unconventional way. Following each presentation is a brief Q&A with the audience.
Nerd Nite operates in over a hundred cities around the world, including Tokyo, Seattle, London, Los Angeles, Des Moines, Austin, and many more. Nerd Nite launched in Orlando on Thursday, March 14, 2013.
Since its inception, Nerd Nite Orlando has taken place on every second Thursday of the month. If you have questions or concerns, email us at orlando@nerdnite.com