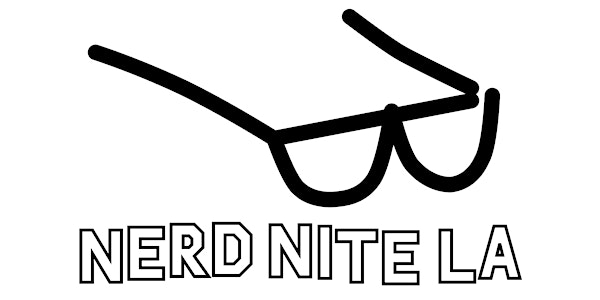 Nerd Nite Los Angeles - March 2023
Nerd Nite is fun-yet-informative lectures at a bar. It's like TED Talks...but with beer.
When and where
Date and time
Tuesday, March 21 · 7 - 10pm PDT
Location
Brewyard Beer Company 906 Western Avenue Glendale, CA 91201
Refund Policy
Contact the organizer to request a refund.
Eventbrite's fee is nonrefundable.
About this event
Nerd Nite is fun-yet-informative lectures at a bar. It's like TED Talks...but with beer.
We all know that learning is more fun when you're drinking with friends and colleagues. Thus, Nerd Nite is a monthly event held in more than 100 cities across the globe during which several folks give 20-minute fun-yet-informative and easily accessible presentations across all disciplines – while the audience drinks along.
FAQ's:
- Doors open at 7pm. Intro at 7:45pm. Presentations at 8pm.
- The Brewyard Beer Company is a 21+ venue.
- There is free street parking surrounding the bar, but we recommend utilizing a ride share service.
PRESENTATION LINE-UP:
PRESENTATION #1: Lestodon doesn't want your avocado toast: digging through sloth sh*t to debunk dietary myths
by Melissa Macias
Summary: People love to attribute the evolution of avocados to giant ground sloths eating the fruit and pooping out the seeds whole. One day, a couple of paleontologists started ranting on Twitter (as we do) about this implausible hypothesis and decided it was worth an actual study. We did some science to bust this myth and see if there is any truth behind it. Spoiler alert: it's bullshit. Or sloth shit?
Bio: Melissa is back for her THIRD Nerd Nite talk! She's a paleontologist and sloth expert who will gladly talk your ear off if you ask anything about giant ground sloths. Her original career plans were to be a fashion designer, but when that didn't work out, she decided to be a paleontologist instead. In her day job, she runs around construction sites and protects fossils from certain destruction, and muses about how to make high-visibility safety vests more goth.
PRESENTATION #2: "The Proton Pack is Not a Toy": How to be Empowered by Fiberglass, Wires and Resin
by Natalie Nielsen
Summary: Let's talk about the Proton Pack, the essential tool of the Ghostbusters. But what is a Proton Pack? How does it work? What does it do? Learn how this mess of cables, doodads, and gadgets helped unite a fledgling fandom and a whole lot more.
Bio: Natalie Nielsen (she/her) is a maker, producer, and fangirl who has curated a life that is centered on finding deep meaning in seemingly frivolous things. She's had a lot of fun doing that so far and can't wait to see what comes next. She lives in Burbank with her wife, Mae, and their two cats, Nina and Ursa Major.
PRESENTATION #3: Octopus Fight Club: How do octopuses lose their arms in self-defense?
by Kelley M Voss
Summary: We're finally going to talk about Octopus Fight Club. Octopuses have a bunch of near-identical arms that they use for all kinds of things, including self-defense. That aspect hadn't really been studied until I found myself surrounded by jars of pickled octopuses, many with arms that were mere stumps, likely lost in battle with some predator, with little regrowing arm tips. I thought I saw a pattern to this arm loss, and I wanted to know what they are actually doing in a fight to lose particular arms when they all seem so redundant. (Hopefully, you want to know now, too.) We're going to walk through what an arm is (spoiler alert, not a tentacle!!!), learn the rules of Octopus Fight Club, and find out whether I was onto something… or was high on octopus-infused ethanol fumes. Yes, there will be video.
Bio: Kelley Strohm-Voss is a queer marine biology professor whose graduate research has focused on octopus body form, ecology, and behavior, spanning the West Coast between Alaska and Southern California. When she's not talking about octopuses (this is pretty rare), she co-hosts The Spinal Frontier, a Star Trek alien physiology podcast, with her spouse Eryn