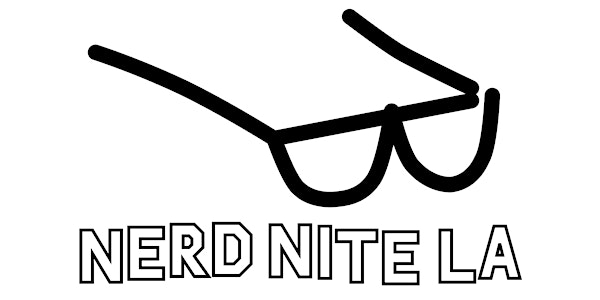 Nerd Nite Los Angeles - January 2023
Nerd Nite is fun-yet-informative lectures at a bar. It's like TED Talks...but with beer.
When and where
Location
Brewyard Beer Company 906 Western Avenue Glendale, CA 91201
Refund Policy
Contact the organizer to request a refund.
Eventbrite's fee is nonrefundable.
About this event
Nerd Nite is fun-yet-informative lectures at a bar. It's like TED Talks...but with beer.
We all know that learning is more fun when you're drinking with friends and colleagues. Thus, Nerd Nite is a monthly event held in more than 100 cities across the globe during which several folks give 20-minute fun-yet-informative and easily accessible presentations across all disciplines – while the audience drinks along.
FAQ's:
- Doors open at 7pm. Intro at 7:45pm. Presentations at 8pm.
- The Brewyard Beer Company is a 21+ venue.
- There is free street parking surrounding the bar, but we recommend utilizing a ride share service.
PRESENTATION LINE-UP:
PRESENTATION #1: Time After Time - The Rise & Fall & Rise Again of the Wristwatch
by Anne M. Kelly
Summary: Why are Swiss watches so expensive? What makes a watch "automatic?" Where did all of the American watchmakers go? From beauty queens to Nazis, from smalltown America to Japanese factories, we will tick through the wild, weird, and sometimes racist history of watchmaking in the 20th century.
Bio: Anne M. Kelly is an archivist, tour guide, and dungeon master with their Masters in Media Studies who has devoted their career to making obscure history popular and popular history obscure. They have published in The Cine-Files, Spectator, and The Film Experience. They've presented at Nerd Nite twice so far, and can't wait to do it again!
PRESENTATION #2: Two Plus Two Is Four: A Proof
by Riley John Gibbs
Summary: Simple is not always easy, and it can be surprisingly difficult to define and grok numbers. We can however construct formal and simple mathematical definitions for arithmetic operations, natural numbers, integers, rational numbers, and beyond so that the mathematics we know works the way it ought to, even in the uncountably infinite number sets.
Bio: Riley John Gibbs has degrees in mathematics, teaching, and computer science from USC, Bard, and Georgia Tech, and wishes he could get one more MA in dungeons so he could say he has a Dungeons Masters. He has presented at Nerd Nite LA four times and been honored to be a co-boss since 2017.
PRESENTATION #3: Chasing the "Big Dog"
by Erin Macdonald, PhD
Summary: In 2010 the LIGO Collaboration thought it made the first ever detection of a gravitational wave. The community had to work in secret for over six months to verify this rare event with one big shadow: it was highly likely this was a blind injection of a fake signal designed to test the collaboration's ability to detect a gravitational wave. This talk by Dr Erin Macdonald, a former member of LIGO, will go into the contentious stories and big personalities of trying to make the first gravitational wave detection. Oh, and there will be a little science too.
Bio: Erin Macdonald, PhD received her PhD in Astrophysics from the University of Glasgow as a member of the LIGO Scientific Collaboration searching for gravitational waves. After leaving research in 2014 (one year before the Nobel Prize-winning detection) she went on to be an internationally renowned speaker, educator, and aerospace engineer. She finally found her calling in Los Angeles working as a screenwriter and technical advisor, and since 2019 she has been the science advisor for the entire Star Trek franchise.