Description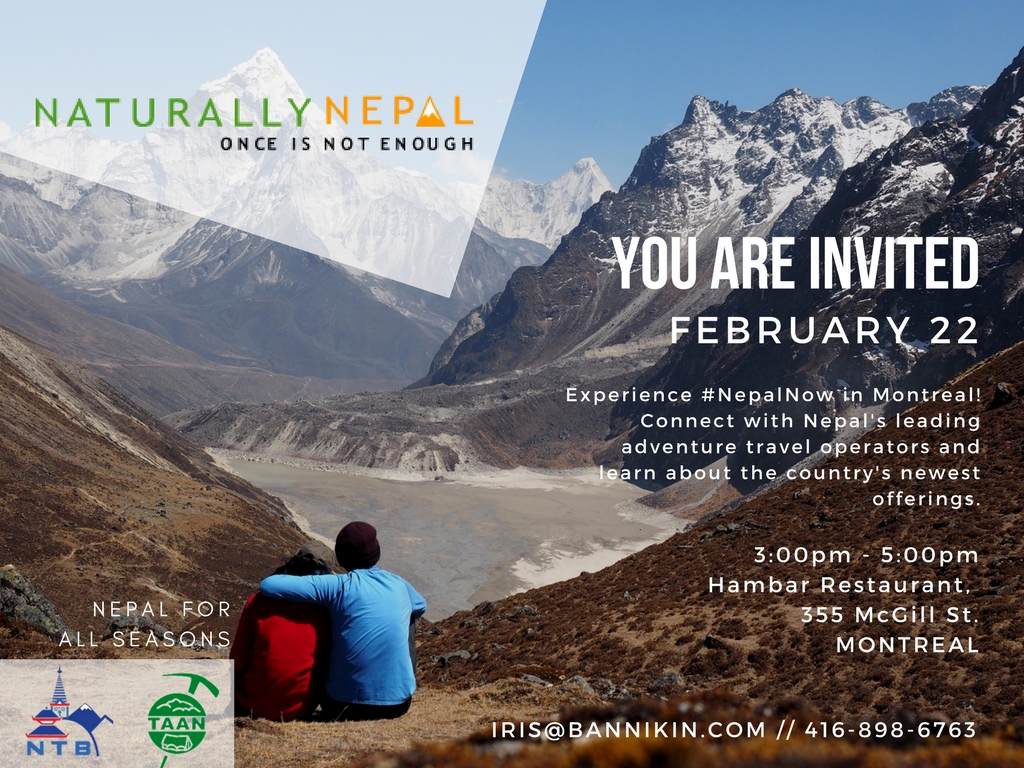 As an influential (and wonderful) member of Bannikin's travel trade & media community in Montreal, we would like to cordially invite you to experience #NepalNow in Montreal on Thursday, February 22nd from 3-5pm. This is the new date for the event that was rescheduled, from October 5, 2017.
You'll be connecting with Nepal's leading adventure travel operators to learn what's new in this gorgeous country set in the Himalayas, and hear about the most awe-inspiring experiences for 2018.
Please join us for afternoon cocktails, snacks, and of course... a grand prize giveaway!
----
Bannikin
vous invitons cordialement à faire l'expérience de #NepalNow à Montréal le jeudi 22 février de 15h00 à 17h00.
C'est la nouvelle date pour l'événement reporté, à partir du 5 octobre 2017.


Vous serez en contact avec les principaux voyagistes du Népal pour connaître les nouveautés de ce magnifique pays situé dans l'Himalaya et découvrir les expériences les plus impressionnantes pour 2018.



S'il vous plaît, joindre à nous pour les cocktails de l'après-midi, des collations, et bien sûr ... un grand prix cadeau!
À bientôt!
We can't wait to see you there!
Cheers,
Iris Serbanescu
Nepal Tourism Board in Partnership with Bannikin