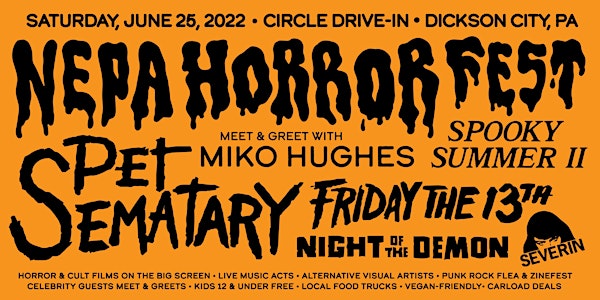 NEPA Horror Fest w/ Pet Sematary, Friday the 13th, and Night of the Demon
Location
Circle Drive-In
1911 Scranton Carbondale Highway
Scranton, PA 18508
NEPA Horror Fest 2022: The Spookiest Celebration of Summer!
About this event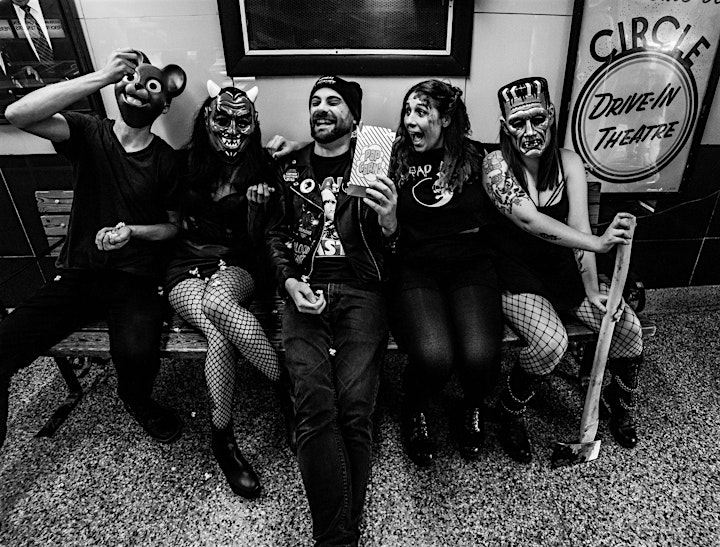 Join us at the Circle Drive-In on Saturday, June 25, 2022 from noon to midnight where we will host an all-day punk rock flea market, live music acts that celebrate the local scene, celebrity guest meet & greets, and horror and cult movies playing on the big screen at night:
Pet Sematary (1989)
Friday the 13th (1980)
Night of the Demon(1980)
Short Horror Films: Vamp Nite and 10/31/85
Retro Trailers
The NEPA Horror Fest began as the NEPA Horror Film Festival in October of 2015 with an event called "13 Short Films" at River Street Jazz Cafe in Wilkes-Barre, Pennsylvania. The event was free and screened horror films from all around the world, including three locally-made films. It was a successful event with over 100 attendees. Since then, the festival has done a handful of screenings at Ale Mary's at the Bittenbender in Scranton, Pennsylvania, specializing in screening shot-on-video low-budget cult classics from the 1980s and 1990s.
Some of the feature-length films we have screened include John Wintergate's Boardinghouse (1982), Todd Sheets' Zombie Bloodbath (1993), Todd Jason Cook's Death Metal Zombies (1995), John and Mark Polonia's Feeder's 2: Slay Bells (1998), Austin Bosley's Dismembering Christmas (2015), and Ryan Logsdon's Agoni (2015). In 2016, we hosted "13 Short Films 2," with a more expanded event schedule comprised of film screenings, vendor tables, stand-up comedy, Q&A panels, and even celebrity guests. Today, our event has joined forces with the Scranton Punk Rock Flea Marker & Zinefest and has expanded to the Circle Drive-In in Dickson City, Pennsylvania to bring about a greater appreciation of independent filmmakers, visual artists, and musicians.
MOVIES
Horror & Cult ClassicMovies on the Big Screen
Independent & Feature-Length Films
Celebrity Meet & Greet with Pet Sematary Actor, Miko Hughes
MUSIC
Live Music Performances
Shodemon (Scranton, PA)
Lily & The Resonaters (Scranton, PA/Brooklyn, NY)
Carrousel (Bethlehem, PA)
Rubix Pube (Bethlehem, PA)
Horrible Charlie (Reading, PA)
Chesty Malone & The Slice 'Em Ups (Brooklyn, NY)
Teen Mortgage (Washington, D.C.)
ART
Alternative Artists & Makers
Punk Rock flea Market & Zinefest
FOOD
Circle Drive-In Concessions
Fondippity
El Buen Amigo
Donerds Donuts
Dead Sled Coffee
Space Time Mead & Cider
Cyanide Suzy Creations
Parlor Beverages
Punk Wok N Roll Eggrolls
Vegan-Friendly Options
MORE
Kids 12 & Under Free
Re-Entry Allowed
Dogs Permitted
TICKETS
Tickets on Sale Now
NEPAHorrorFest.com
Cash Only at the Door