Description
Founders, executives, artificial intelligence & data experts - all in one place. Join our free Neoteric AI Talks to learn how to grow revenue with AI!
About this Event
We're happy to invite you to the first Neoteric AI Talks in Berlin!
Meet us on November 28 for your share of knowledge, inspiration, and a portion of great networking. Let's share experiences and learn about different aspects of growing revenue with AI and network over great food served by a professional chef.
Join the event to:
meet top experts from the field of Artificial Intelligence & Machine Learning

learn how to reduce churn with recommender systems

find out what to focus on when you implement an AI solution

explore the challenges of building recommender systems


and figure out how to grow revenue with AI.
Meet the speakers: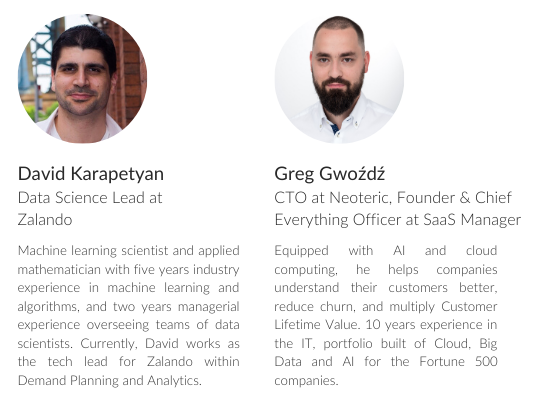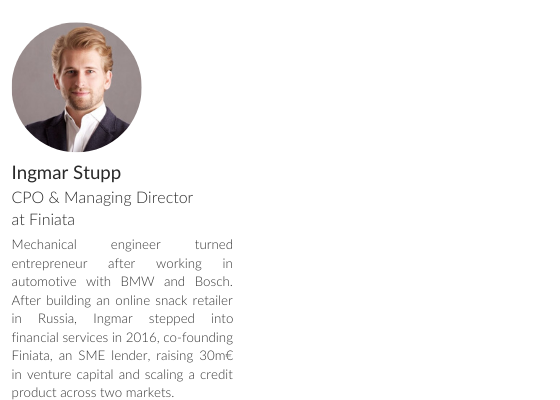 Agenda:
16:30-17:00 Registration of attendees
17:00-17:30 David Karapetyan (Zalando), Time Series Forecasting for Zalando Fashion SKU Demand

How does Zalando know what to keep in stock? And how much of a given item is needed? In this talk, David will discuss machine learning ensemble models that are currently in use at Zalando to forecast seasonal fashion SKU demand within Demand Planning and Analytics.
17:30-18:00 Greg Gwoźdź (Neoteric), Dos and don'ts of building recommendation systems
Is a recommender system's only role to recommend? What's the business value? Recommender systems, when done right, can improve customer engagement, boost customer loyalty, and increase sales. But do you have what it takes to build a recommender system that brings real business value? In this talk, Greg will guide you through the dos and the don'ts of building your recommendation engine.
18:00-18:30 Ingmar Stupp (Finiata), How Finiata uses machine-learning to out-perform banks on credit risk

Finiata's journey towards positive risk-margins was a play with fire. Learn how we leveraged the advantages of being a venture-backed startup to succeed as a balance sheet lender.
18:30-19:15 Discussion panel: Growing Revenue With AI
19:15-20:00 Networking & live cooking
During the event, there will be a live cooking show prepared by our partner Ulala Chef - an online platform for renting chefs for private parties at home or the office. Chef Maciej Majewski will prepare and serve finger fiid menu for all our guests. Maciej is a highly experienced chef specialized in cocktail parties and live cooking shows. He is the Head Chef at Sofitel Victoria Warsaw hotel and La Brasserie Moderne restaurant. He focuses on modern European cuisine, especially French and Polish cuisine, and their creative combinations.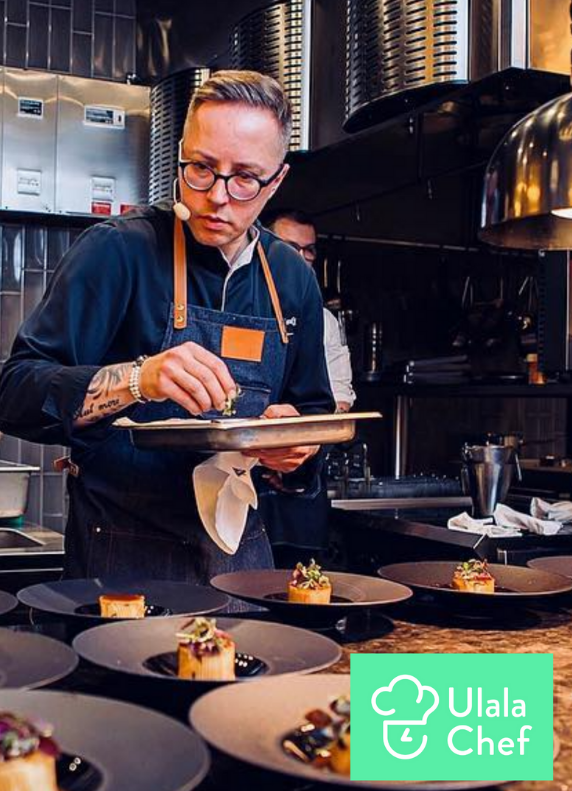 Admission to the event is free. Yet, we want to keep it cozy, so the number of seats is limited. Claim your reservation today and make sure you don't miss the event!
Can't attend? Don't worry, you can still get the same event set with the summary of all the presentations. See more here.
Have any questions? Message us at: ai-talks@neoteric.eu
By registering for this event, you accept the Neoteric AI Talks Terms and Conditions.
When: 28 November 2019
Venue: WeWork Atrium Tower, Eichhornstraße 3, Berlin