Description
Founders, executives, artificial intelligence & data experts - all in one place. Join our free Neoteric AI Breakfast to learn how to scale digital products with data!
About this Event
We're happy to invite you to the first Neoteric AI Breakfast in London!
Meet us on September 19 for your share of knowledge, inspiration, and a portion of great networking over some coffee & breakfast. Let's share experiences and learn about different aspects of scaling digital products with data.
Join the event to:
meet top experts from the field of data science

learn how to leverage data to know and reach your target audience

find out how to reduce churn with recommender systems

check what the things you need to build a recommendation engine are

explore other challenges of AI adoption

and figure out how to scale your digital product with data.
Meet the speakers: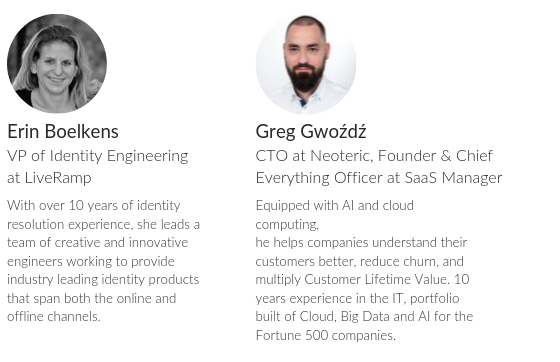 Agenda:
8:30-9:30 Breakfast & networking
9:30-10:00 Erin Boelkens: Leveraging Identity + Data to Know and Reach Your Target Audience
Ever wanted to understand your customers better? Gain an understanding of all the channels through which they access your products and services? Learn how you can use Identity, in a GDPR safe and compliant way, to increase the ROI on your marketing spend.
10:00-10:30 Greg Gwoźdź: How to increase revenue from your customers using predictive analytics
You have been collecting a lot of data about your business and customers. But are you taking advantage of it the way your competitors are? If you want to increase your revenue, I'd be happy to tell you how to predict customers' buying decisions and how to build a product recommendation system that will help you learn more about your customers and encourage them to spend more.
10:30-11:00 Marcin Skoczylas: Benefits of IoT in products and large data processing challenges
Modern people are accustomed to the fact that all kinds of computer interaction often offer tools for prediction and choice of paths. A recent tendency is to make it easier for IoT users to operate through analogous pre-emptive behavior. The huge amount of such data means that the use of simple statistical methods for analysis is insufficient and machine learning can be the solution that will shape the direction of future analytical solutions.
***
The admission to the event is free. Yet, we want to keep it cozy, so the number of seats is limited. Claim your reservation today and make sure you don't miss the event!
Have any questions? Message us at: breakfast@neoteric.eu
By registering for this event, you accept the Neoteric AI Breakfast Terms and Conditions.
When: 19 September 2019
Venue: RocketSpace Tech Campus, 40 Islington High Street, London