NEON LIGER returns for the 14th Anniversary + Reunion on Saturday, February 5th at The Wooly in Gainesville, FL.
About this event
𝘍𝘭𝘰𝘳𝘪𝘥𝘢'𝘴 𝘳𝘰𝘸𝘥𝘪𝘦𝘴𝘵 𝘢𝘯𝘥 𝘭𝘰𝘯𝘨𝘦𝘴𝘵-𝘳𝘶𝘯𝘯𝘪𝘯𝘨 𝘦𝘭𝘦𝘤𝘵𝘳𝘰𝘯𝘪𝘤 𝘥𝘢𝘯𝘤𝘦 𝘱𝘢𝘳𝘵𝘺 𝘴𝘵𝘢𝘳𝘵𝘦𝘥 𝘪𝘯 𝘍𝘦𝘣𝘳𝘶𝘢𝘳𝘺 𝘰𝘧 2008. 𝘍𝘰𝘳 𝘴𝘦𝘷𝘦𝘯 𝘺𝘦𝘢𝘳𝘴, 𝘪𝘵 𝘳𝘰𝘢𝘳𝘦𝘥 𝘸𝘦𝘦𝘬𝘭𝘺, 𝘯𝘦𝘷𝘦𝘳 𝘮𝘪𝘴𝘴𝘪𝘯𝘨 𝘢 𝘚𝘢𝘵𝘶𝘳𝘥𝘢𝘺 𝘯𝘪𝘨𝘩𝘵. 𝘕𝘌𝘖𝘕 𝘓𝘐𝘎𝘌𝘙 𝘸𝘢𝘴 𝘷𝘪𝘣𝘳𝘢𝘯𝘵, 𝘰𝘶𝘵𝘳𝘢𝘨𝘦𝘰𝘶𝘴 𝘢𝘯𝘥 𝘯𝘰𝘯-𝘫𝘶𝘥𝘨𝘮𝘦𝘯𝘵𝘢𝘭, 𝘱𝘰𝘸𝘦𝘳𝘦𝘥 𝘣𝘺 𝘵𝘩𝘦 𝘧𝘪𝘦𝘳𝘤𝘦 𝘱𝘦𝘰𝘱𝘭𝘦 𝘸𝘩𝘰 𝘮𝘢𝘥𝘦 𝘪𝘵 𝘵𝘩𝘦𝘪𝘳 𝘩𝘰𝘮𝘦. 𝘐𝘵 𝘸𝘢𝘴 𝘣𝘦𝘢𝘶𝘵𝘪𝘧𝘶𝘭, 𝘴𝘸𝘦𝘢𝘵𝘺, 𝘢𝘯𝘥 𝘶𝘯𝘵𝘢𝘮𝘦𝘥, 𝘢𝘯𝘥 𝘵𝘩𝘦 𝘭𝘦𝘨𝘦𝘯𝘥 𝘤𝘰𝘯𝘵𝘪𝘯𝘶𝘦𝘴 𝘰𝘯𝘤𝘦 𝘢 𝘺𝘦𝘢𝘳 𝘢𝘵 𝘵𝘩𝘦 𝘓𝘪𝘨𝘦𝘳𝘷𝘦𝘳𝘴𝘢𝘳𝘺.
⼀
NEON LIGER Presents
𝗡𝗘𝗢𝗡 𝗟𝗜𝗚𝗘𝗥 𝟭𝟰 • Anniversary + Reunion
14 Artists | 2 Stages | 1 Night Only
𝗛𝗢𝗨𝗦𝗘 • 𝗘𝗗𝗠 • 𝗘𝗟𝗘𝗖𝗧𝗥𝗢𝗡𝗜𝗖
2 STAGES • LOUD SOUND STAGE + SILENT DISCO STAGE
𝗙𝗨𝗟𝗟 𝗙𝗘𝗦𝗧𝗜𝗩𝗔𝗟-𝗦𝗧𝗬𝗟𝗘 𝗦𝗢𝗨𝗡𝗗 𝗔𝗡𝗗 𝗟𝗜𝗚𝗛𝗧 𝗦𝗛𝗢𝗪
⼀
(𝘓𝘪𝘯𝘦-𝘶𝘱 𝘵𝘰 𝘣𝘦 𝘢𝘯𝘯𝘰𝘶𝘯𝘤𝘦𝘥)
IG: @neonligerpresents
FB: @neonliger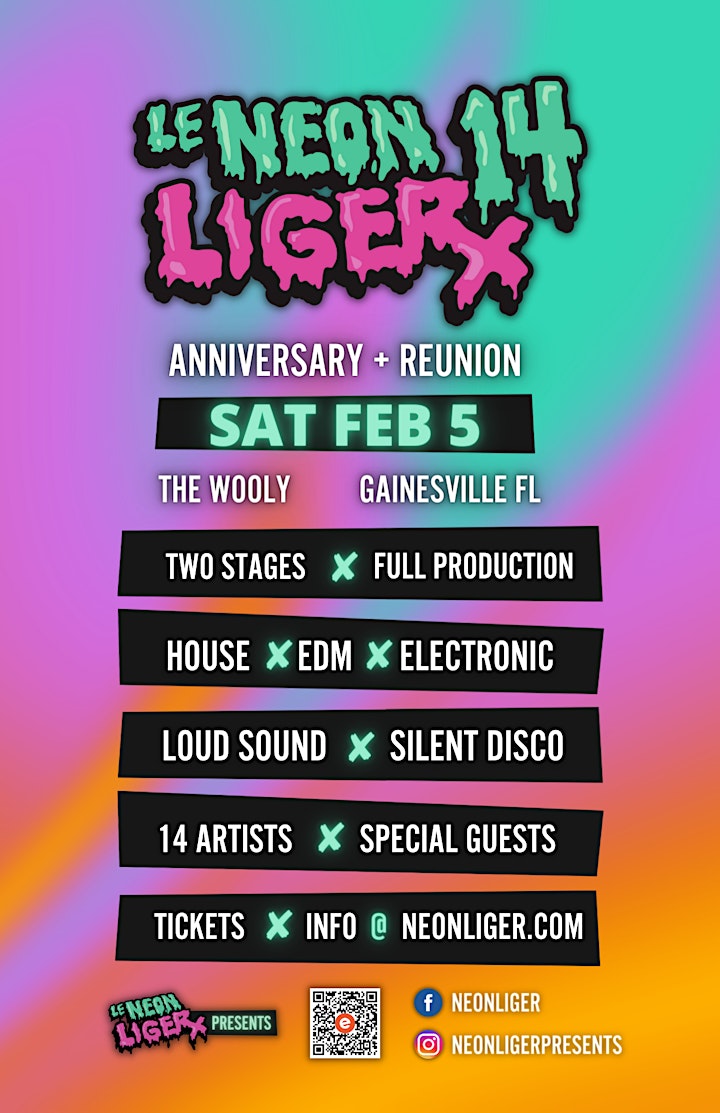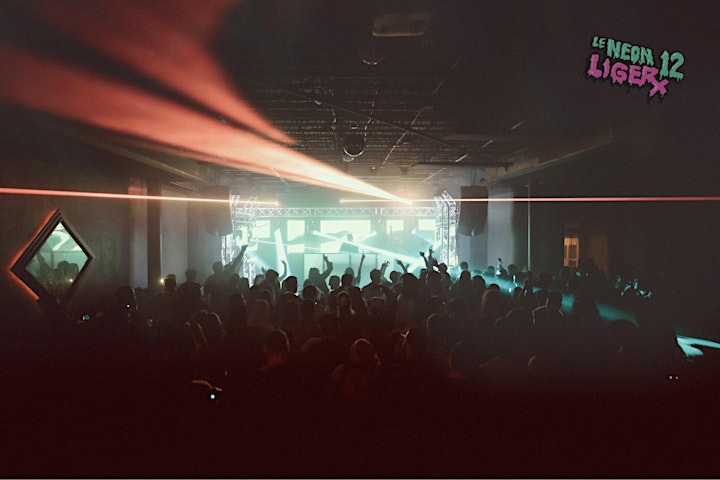 Organizer of NEON LIGER 14 • Anniversary + Reunion
Florida's rowdiest and longest-running electronic dance party started in February of 2008. For seven years, it roared weekly, never missing a Saturday night. NEON LIGER was vibrant, outrageous and non-judgmental, powered by the fierce people who made it their home. It was beautiful, sweaty, and untamed, and the legend continues once a year at the Ligerversary.