NEON LIGER returns for the 11 ⏤ Year Anniversary + Reunion on Saturday, February 9th, 2019 at The Wooly in Downtown Gainesville, FL.
About this event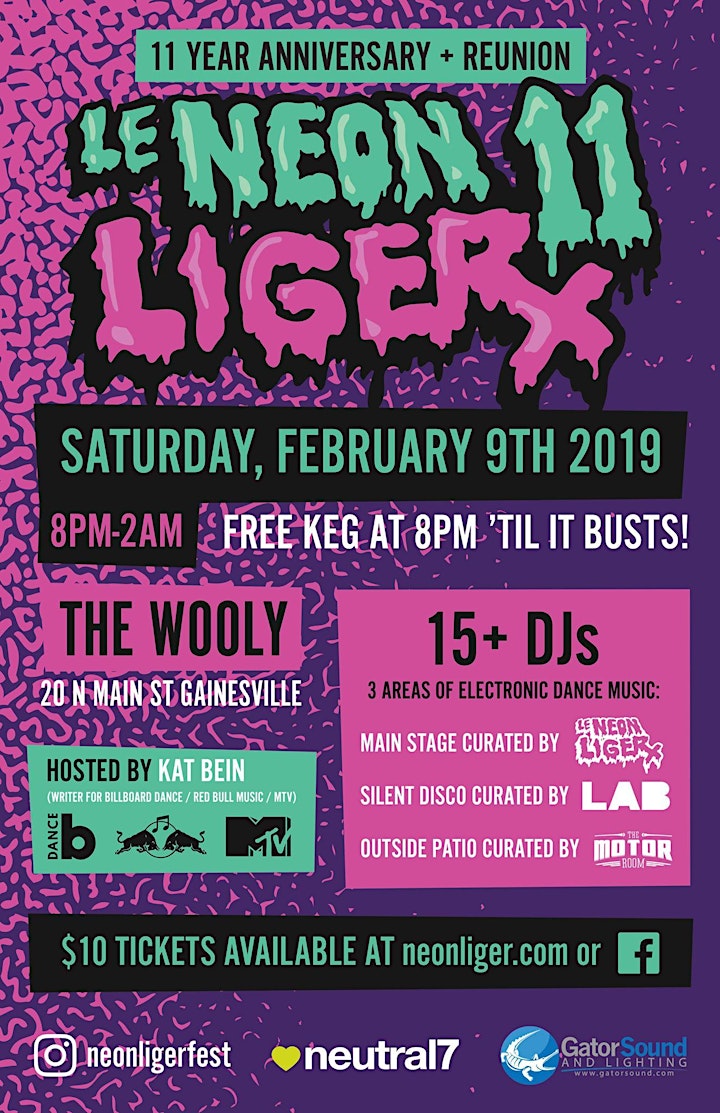 ℹ️ Saturday, February 9th
The Wooly Gainesville, FL
18+ Welcome (Outside Patio is 21+)
$10 Advance ⚡️ $15 Doors
8PM-2AM (Free keg 'til it busts!)
---
✨ 1 night and 3 unique areas of lights, atmosphere and music. Stages curated by NEON LIGER, LAB, and Motor Room❗️
⏤Stage productions by Gator Sound and Lighting and LAB
⏤Silent Disco by Jamz Entertainment LLC
⏤Hosted by Kat Bein "EDM's Barbara Walters"
(Billboard Dance / Red Bull Music / MTV)
DJ sets by (in alphabetical order):
⏤Adobo
⏤Allwack
⏤Ascendants
⏤Black Cloud
⏤Deitz
⏤Dunstan Wallace
⏤GPS
⏤JACK-CHAN
⏤JeRK
⏤Losa Fólk
⏤Psylo
⏤Sketch
⏤Soren
⏤Tah/Koh
⏤Vi
⏤ZEROSUM
🐅 Est. 2008-2019
www.neonliger.com
Neutral7 design group
Organizer of NEON LIGER 11 ⏤ Year Anniversary + Reunion
Florida's rowdiest and longest-running electronic dance party started in February of 2008. For seven years, it roared weekly, never missing a Saturday night. NEON LIGER was vibrant, outrageous and non-judgmental, powered by the fierce people who made it their home. It was beautiful, sweaty, and untamed, and the legend continues once a year at the Ligerversary.