Event Information
Location
Slowdown - Main Room
729 North14 Street
Omaha, NE 68102
About this Event
Doors at 7:00pm
Main Room
$20 Advance/$23 Day of Show
All ages show. Check entry requirements at http://theslowdown.com/All-Ages
About Neon Indian
Neon Indian (aka Alan Palomo) has announced the long awaited follow up to 2011's Era Extraña and this year's standalone single "Annie." Slated for release via Mom + Pop on October 16, VEGA INTL. Night School was conceived during a period of aesthetic reinvention for Palomo, as he retooled the lo-fi and spontaneous writing style he'd developed as Neon Indian by incorporating elements of the cleaner production values and dance oriented approach of his previous recording moniker VEGA, ultimately merging the two into one fast lane. Developed over a four year period, the album brims with funk-centric guitar lines, pronounced Balearic rhythms, and the most elaborate songwriting of his career.
Composed and recorded in a variety of locations including, but not limited to, the cabin aboard a cruise ship, DFA's Plantain Studios in New York, Pure X's practice space in Austin, Ben Allen's studio in Atlanta, and mixed in Brooklyn with Alex Epton (XXXchange). Upon its completion, Alan noted "most of what I've learned about human nature in my twenties has happened after dark. People are just kind of more honest then. More deliberate. I like to call the places I go to Night Schools."
The new album single "Slumlord" arrives alongside an inventive relaunch of his website as Nightschool.biz The site features an hotline (+1-512-643-VEGA) to receive and send audio of the song and a special voice greeting about the album, in addition to newly announced US tour dates and an album-preorder that comes with instant grat tracks "Annie" and "Slumlord."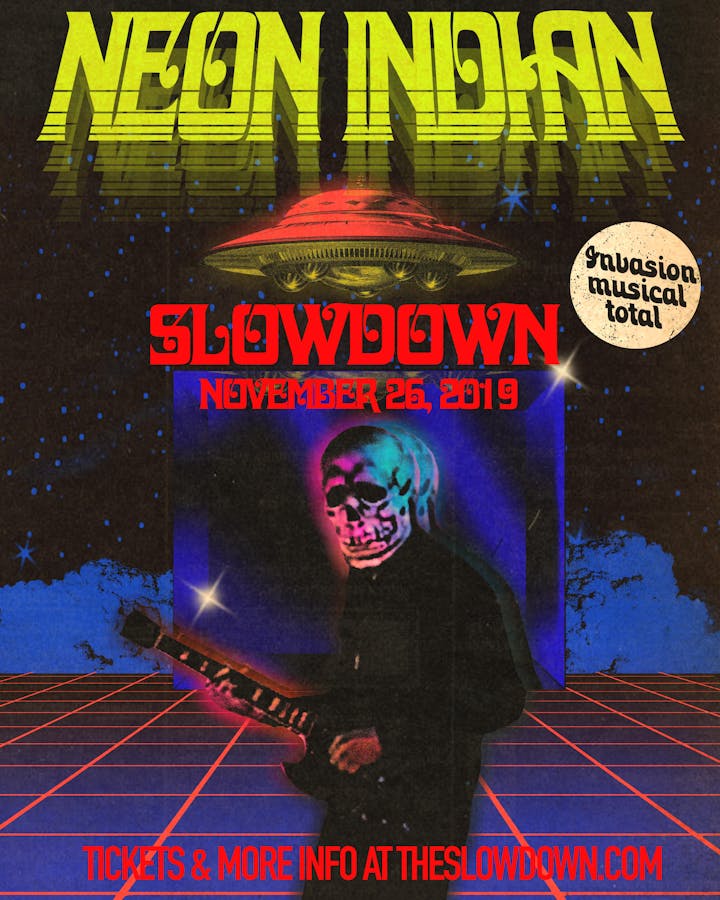 About Lou Rebecca
Austin based pop artist Lou Rebecca makes a captivating debut with her stellar self-titled EP. Born and raised in Paris, Lou's music is delicately delivered in both English and her native French with a natural grace and unmistakable charm. Lou's approach to songwriting and performance is riveting from start to finish and has been a huge presence in the dense local synth scene for several years. Now her unique brand of electronic pop has officially arrived, polished and teeming with personality.
Lou Rebecca has mastered the art of sophistication in pop music. With a background in piano, guitar and ballet, Lou not only writes her own songs and performs many of the instruments on her record, she also takes full control of every aspect of her persona including choreography and directing her own music videos. As her EP ranges from dance anthems to tender ballads, she continues to maintain a sense of genuine aesthetic. Rebecca is well versed in the complex history of pop music and thus has a timeless quality to her work. With her soft and charismatic voice, Lou's songs are instantly endearing and go beyond the basic tropes of the archetypical pop crooner.
"If You Can" is an intoxicatingly catchy song, revealing Lou's flirtatious side while flaunting her smooth analog synth work. Lou occupies the point of harmony between accessibility and technique, meticulously designing each piece with a unique emotional and conceptual palate. The first single "Fantôme" is wistful and cinematic, emphasizing dreamy melodies that subconsciously linger and echo long after the initial listen. Rebecca's self-titled EP insists on multiple revisits, making it a remarkably immersive and compelling introduction to Lou as an artist.
Elegantly announcing her arrival, Lou Rebecca truly explodes onto the radar of the music world. Lou's EP foreshadows a brilliant future of inspiring music from this budding talent.
Performers
Date and Time
Location
Slowdown - Main Room
729 North14 Street
Omaha, NE 68102
Refund Policy