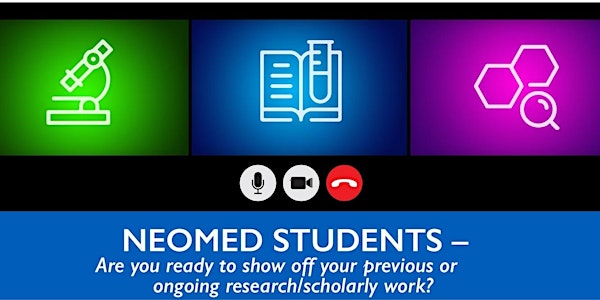 NEOMED Student Research Symposium
NEOMED students will be presenting their previous and/or ongoing research/scholarly work in a virtual setting on Friday, Nov. 19 ,12:30-4:30
About this event
On behalf of NEOMED's Office of Research & Sponsored Programs and Committee for Student Clinical Research, we invite you to the annual NEOMED Student Research Symposium which will be held Friday, Nov. 19 from 12:30-4:30 p.m. This is an opportunity for NEOMED students to disseminate their scholarly work to the greater NEOMED community, to defend that work, and to gain further insights from faculty and fellow students.
We are offering students with the opportunity to present their work in a digital format. This event will be attended by the NEOMED community and students will be provided with opportunities for questions and feedback at the conclusion of their presentation.
Deadline to register is Wednesday Nov. 17 at 5 p.m.
Event Zoom Link: https://neomed.zoom.us/j/99903330706pwd=bStNRE1BWjA4V0NRRWlPUER5bFlhZz09 Password: 961201
Important: Please make sure you download and install the most recent version of Zoom prior to attending the event: https://zoom.us/download#client_4meeting
Questions regarding registration can be directed to Harmony Stanger at hstanger@neomed.edu