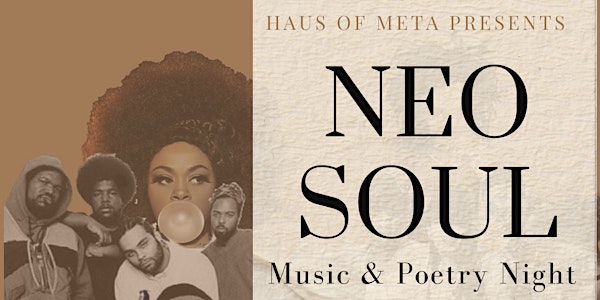 Neo Soul Music & Poetry Night
Haus Of Meta is bringing the Sober community an evening of mellow sounds and Vibrations with Music & Poetry to promote Social Skills.
When and where
Location
Art Share L.A. 801 East 4th Place Los Angeles, CA 90013
About this event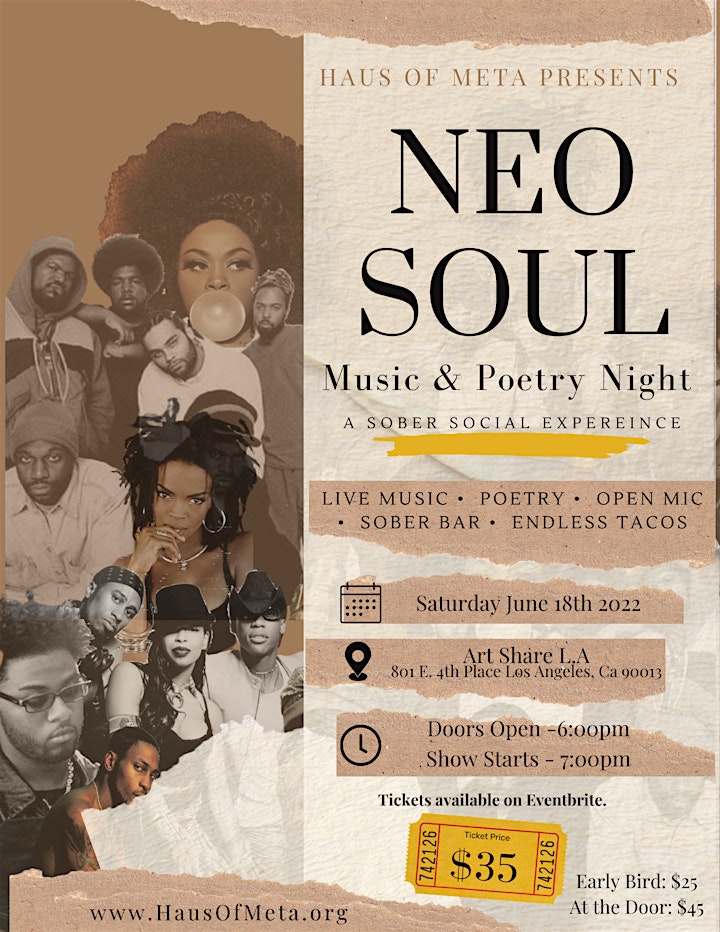 We heard you wanted some Neo Soul vibes!
In efforts to promote Social Skills, Stress Management, Mindfulness, and Comprehension, Haus Of Meta is bringing you an evening of mellow sounds and vibrations. The Neo Soul Music & Poetry Night is a fundraiser to help Haus Of Meta provide resources and life skills work shops for Sober Living homes and our friends in Recovery.
We've got some of the hottest Los Angeles artists coming together to leave their hearts on the stage. This is NOT a Sober Social event that you want to pass on. Come out and experience some of the most exclusive Poetry and LIVE Music! Taking place at Art Share LA located right in the heart of the Los Angeles Arts District. If you're an artist that wants to grace the stage, reach our to us by email at info@HausOfMeta.org. We'll get back to you with a sign up form. (First come first serve).
In addition to feeding your souls with the captivating Music & Poetry throughout the evening, You will also be able to enjoy all you can eat Tacos (6:00pm-7:00pm), a Sober Bar with thirst quenching refreshments and more!
We STRONGLY suggest early arrival. Seats are NOT assigned and are instead first come, first served.
PARKING:
A parking lot for the venue is located directly across the street from the venue on Hewitt St. In addition, metered street Parking is also available on the surrounding streets.
Please pay extra close attention to street signs, and parking meters expiration times. Unfortunately HOM cannot reimburse parking tickets or tow.
What To Expect:
6:00pm - Doors Open. This time is also dedicated to enjoying our Taco caterer, the art gallery, our Sober bar, our 360 video booth, and finding your seats(First come, First serve).
7:00pm - Show starts promptly. Last call for all you can eat Tacos.
Attire: Casual Wear.
TICKETS: All tickets are available for purchase ONLY on Eventbrite. Ticket includes your entry, all you can eat tacos, access to our video booth, and more!
Early Bird : $25
General Admission : $35
At The Door: $45
We recommend purchasing your tickets at your earliest convenience. Seats & Tickets are Limited.
REMINDER: This is a SOBER SOCIAL Event meaning absolutely NO ALCOHOL OR ILLEGAL SUBSTANCES ARE ALLOWED (INCLUDING MARIJUANA). You will be surrounded by a ton of our friends who are in and out of drug recovery and we want to respect their journey. All attendees are coming with the mindset to have a great Safe & SOBER time. We have a zero tolerance for substance use at our events. This means no pre-gaming. If we suspect you're under the influence, you will be asked to leave. Please be sure to take all of these things into consideration before the day of the event. Again, we appreciate your contribution to our fundraiser as this would NOT be possible without YOU, However, we have to do what's best for the population that we have vowed to serve. Thanks for your cooperation and consideration.
No Refunds as this is a fundraising event for the betterment of the Sober Community.
If you have any further questions or concerns, feel free to reach out to us directly at info@HausOfMeta.org