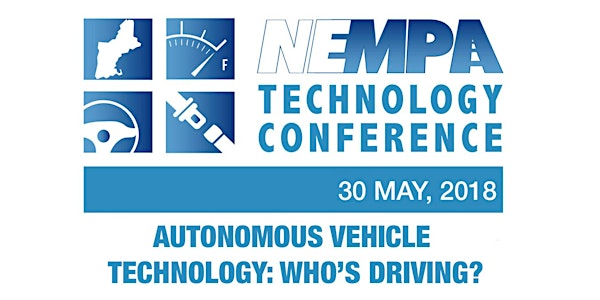 NEMPA Presents: Autonomous Vehicle Technology: Who's Driving?
By New England Motor Press Association
Date and time
Wednesday, May 30, 2018 · 12 - 5pm EDT
Location
MIT Media Lab 75 Amherst St Cambridge, MA 02139
Description
2018 NEMPA MIT Technology Conference: Autonomous Vehicle Technology: Who's Driving?
The race to autonomous vehicles has bigger stakes than most realize. The future literally rides on the artificial intelligence that is being developed and tested - to not only drive our vehicles, but our lives.

The technology is disruptive, but it is here. How it shapes the future holds the potential for prosperity, power, and corporate dominance. While some debate if consumers truly want this technology, a bigger picture is coming into focus. Companies are spending billions of dollars to insure that they can maintain a sustainable business model through the year 2050 and beyond.

But is this artificial intelligence technology safer than human intelligence? Will it really make our lives more convenient? And, is it worth the privacy risks?

How and when will this transition to autonomous and connected vehicles actually occur? Will the government mandate or regulate these technologies in the name of safety? What rights or protections does the consumer have?
Please join us as we discuss the autonomous vehicle technology race, how we plan to get there, and who is driving.
About the organizer
The New England Motor Press Association was founded in 1987 to coordinate professional media coverage of the auto industry in Connecticut, Maine, Massachusetts, New Hampshire, Rhode Island and Vermont, whose 14.5 million citizens have unique demographics and automotive preferences. Membership in NEMPA is by invitation and open to carmakers and their public-relations and communications staffs, suppliers to the automotive industry, and trade and consumer auto show producers as well as to automotive journalists and photographers. NEMPA's media members appear on network and cable TV, on the Internet and radio, and in regional and national newspapers and magazines.