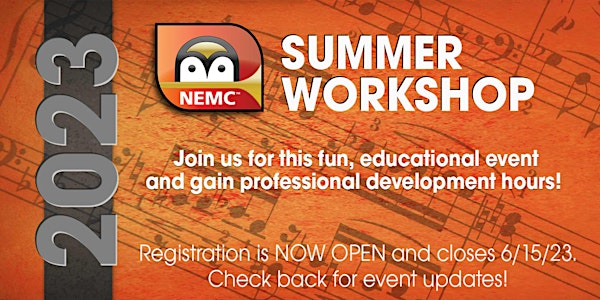 NEMC Summer Workshop 2023
NEMC is proud to present this year's Summer Workshop for instrumental music teachers and collegiate pre-service music educators.
By National Educational Music Company
Date and time
Tuesday, June 27 · 8:30am - 2:30pm EDT
Location
Montgomery Twp High School 1016 County Road 601 Montgomery, NJ 08558
About this event
NEMC SUMMER WORKSHOP IS BACK!
We have some amazing presenters lined up for a day of professional development, fellowship, and music making.
ABOUT OUR PRESENTERS
Mr. Peter Sciaino
(b.1975) is a passionate music educator, author and composer of band and orchestra music for all levels. The creator of the United System for Winds and Percussion, he is currently published with Alfred Music, C.L. Barnhouse Company, C. Alan Publications, Carl Fischer Music, Excelcia Music Publishing, RWS Music Company and Wingert-Jones Publications in the United States and Hafabra Music in Europe. Peter holds a BM from Syracuse University in Music Education and an MA from New York University in Music Composition. An instrumental music teacher at Whippany Park High School (NJ) for over 25 years, he directs both the concert band and jazz ensemble while co-directing the marching band and teaching AP Music Theory. Peter resides in New Jersey with his wife and two children and enjoys collecting jazz on vinyl while obsessing over small-batch, independent coffee roasters.
Dr. Scott Watson
An award-winning and frequently commissioned composer, Scott Watson's unique voice - evident in more than 100 published concert band, orchestra and chamber works at all levels - is informed equally by his experiences with contemporary concert art music and the band world. Watson's music has been performed around the world and in the U.S. at such prestigious venues as Philadelphia's Academy of Music, the Midwest Clinic (Chicago) and at the White House. Dr. Watson is currently Professor of Music in the School of Music, Cairn University (Langhorne, PA) following 35 years teaching instrumental and elective music in the Parkland School District (Allentown, PA).
Agenda
8:30 AM - 9:00 AM
Arrival, Coffee and Convo, Warm Up your instrument!
9:00 AM - 10:30 AM
SESSION 1: The United System for Winds and Percussion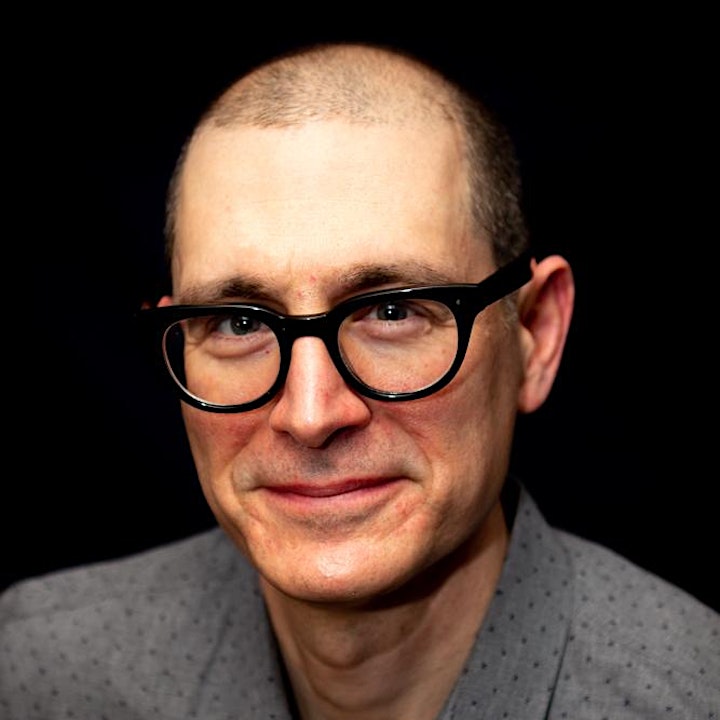 Mr. Peter Sciaino
---
As class size, scheduling and instructional time has become increasingly uncertain, many school band programs have compromised fundamentals in their ensemble or lesson periods. Furthermore, meeting t...

10:45 AM - 12:15 PM
SESSION 2: What to Play? Choosing Music that Creates a Culture of Excellence.
Dr. Scott Watson
---
There are so many worthwhile old and new pieces from which to choose, and from so many gifted composers; yet rehearsal time is limited and precious. With these challenges, directors increasingly use ...

12:15 PM - 1:00 PM
Lunch Provided by NEMC
1:00 PM - 2:30 PM
SESSION 3: Musical Instrument Repair Clinic
---
This extremely popular session will walk you through quick tips and tricks to keep your ensemble playing, even when your students instrument decides to break on concert night or on the marching field.
Frequently asked questions
Should I bring my instrument?
Will l be able to get Professional Development hours from attending this event.
This all looks great, is there anything else I should know?